We are compiling a collection of poems chosen and read by you, to comfort, support and inspire nurses and their health and care colleagues during the COVID19 pandemic. We are working with the Scottish Poetry Library, the University of Edinburgh, and Queen Margaret University to share poems using #PoemsforCarers.
The poems you read will also be put forward for selection to the editorial board of a new anthology similar to Tools of the Trade, called 'Pocket Poetry for Nurses and Midwives', which will be gifted to every new graduate in Scotland from 2021 for three years.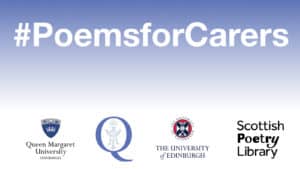 Please record a poem (video MP4 or audio MP3) and send it by email to comms@qnis.org.uk with the filename being your name and the author of the poem.  Please put in the text of the email your name and job title, the title and author of the poem. If the file is too large, please use WeTransfer.
If you choose a video file please record it in landscape. If an audio file, please also send a high-resolution (landscape) photo of yourself. We will upload your poem onto the QNIS website and YouTube channel to create a gallery of poems. When it is uploaded, we will let you know so that you can share it with your network on social media.
Tips for recording:
Practice, do a test to check sounds levels
Start recording
Begin with a few seconds silence/stillness, to help the editing of your file.
Introduce yourself
Say why you have chosen this poem (it may be one you've written)
Read the poem
Share a message for health and care staff
Finish with another quiet/still moment
End recording
Send to comms@qnis.org.uk by WeTransfer