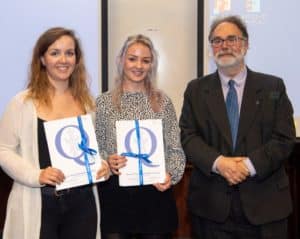 Two students at Glasgow University received awards recognising their outstanding achievements in community nursing.
Claire Carrie and Georgia Dempster received their certificate at the Annual McGirr Lecture on the 4th October. Both undergraduates, they were nominated for demonstrating excellence in community nursing.
The McGirr Lecture is an opportunity for students from all four years, along with staff and guests to come together to celebrate nursing.
In a wonderful touch of serendipity, the guest speaker was Sarah Everett, QNIS Catalyst for Change and RCNI Patients Choice winner.