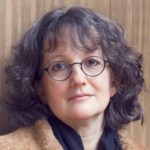 Dr Debbie Tolson is the Alzheimer Scotland Professor of Dementia at the University of the West of Scotland. She is a long-time friend of QNIS and a member of The Fair Dementia Care Commission. In this blog, she highlights the Commission's new recommendations; its call for action on advanced dementia; and, its implications for community nursing.
It is not a coincidence that the Alzheimer Scotland Centre for Policy and Practice is led and staffed by people with a background in community-based nursing. Whether providing care and support in people's homes or in residential settings, community-based nurses know a great deal about the realities of dementia.
They understand three basics. First, dementia is an illness. Second, advanced dementia is a terminal condition, but one that can last for years. And third, families and friends often struggle with financial costs and bureaucratic obstacles, as well as with the personal burdens of lives affected by advanced dementia.
Unfortunately, these basics are easily overlooked within the policies and frameworks that shape our systems and services. The results are inequalities that should not continue to exist in the progressive, fair nation that Scotland aspires to be.
Overcoming these inequalities is what makes the work of The Fair Dementia Care Commission so timely and important. It's just-released report – Delivering Fair Dementia Care for People with Advanced Dementia — https://www.alzscot.org/assets/0003/2746/McLeish_Report_updated_24.01.19_Web.pdf — is worth reading. Chaired by former First Minister Henry McLeish, its recommendations deserve to be heeded and acted upon quickly and fully.
The Commission calls for the Scottish Government to take action to address the inequalities that people living with advanced dementia face every day under the current social care model. This social care response means that people with advanced dementia are disproportionately subject to social care charges for what are primarily health and nursing needs.
The McLeish Report calls for the public sector to accept and recognise that people with advanced dementia must have equality of access to free health care on a par with people who are living with other progressive and terminal illnesses. It also highlights the current complexity, variability and lack of transparency in social care charging policies across Scotland.
The Report presents a compelling case for the needs of people with advanced dementia to be recognised as health care needs and argues for change to ensure equality of access to appropriate and expert health and nursing care. Dementia is, after, still the leading cause of death among women in Scotland and the second most frequent cause overall.
The Commission's recommendation for major reforms brings both opportunity and challenge for community nursing and care providers. Now is the time to prepare and consider how ready we are as a nation to respond to this Commission's clarion call.
It is worth remembering that Scotland currently has approximately 60,000 people living with dementia in family homes — of whom 19% are thought to have advanced dementia — and another 19,318 living within care homes  — of whom 35% of whom are thought to have advanced dementia. Since advanced dementia care is primarily delivered within the community, this is a hot topic for community-based nurses, educators and nurse leaders.
As community-based nurses know, dementia is not in itself a diagnosis. Rather, it is an umbrella term for the neurodegenerative processes in the brain associated with illnesses such as Alzheimer's disease. In early stages of dementia, it is possible to live independently and feel relatively well; but as the underlying disease processes run their course, symptom severity increases. This gives rise to complex healthcare needs. For many, this means living for months and sometimes for years with advanced dementia.
To provide high quality advanced dementia care, community-based nurses need to achieve balance between dementia specific care, palliation and the management of other later life conditions and co-morbidities.
It is vital that the voices and views of community-based nurses become an integral part of the campaign for fair dementia care now underway with the leadership of Alzheimer's Scotland. National organisations, including QNIS, can make important contributions to this campaign.
Community-based nurses can share the McLeish Commission's recommendations with colleagues and in our communities. Together with families and other key professionals, we can demand equality across Scotland. That means fair access to health and nursing care — free at the point of delivery — for everyone with advanced dementia.