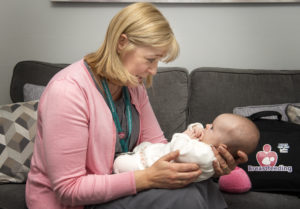 Elizabeth Smith, Queen's Nurse and Infant Feeding Nurse in NHS Ayrshire and Arran writes about her struggles with feeling isolated after qualifying as one of Scotland's first 'degree nurses'. She explains how the Queen's Nurse Development Programme helped her identify this and move past it.  
I love being a nurse, and I love working in the NHS. I have so many experiences that will stay with me forever, so many people I have cared for and will never forget. Delivering a baby and seeing a couple become parents, a new family and a room so filled with joy. Holding a hand at the end of life, being alongside someone who has no family around; no one should die alone. Nursing is a privilege, but it isn't always easy.
I was a 'degree nurse', one of the first to go to Glasgow University rather than train in a hospital college of nursing. I had not realised how much difference that would make to my journey. I thought that despite our different paths we nurses would stick together. Yeah, not so much. Our Professor of Nursing told us how she was an avid fan of American film and TV, she especially loved the black stripe American nurses wore on their caps. So, whilst everyone else had blue stripes we 'degree nurses' had one single thick blackstripe meaning we were distinguishable from a mile away! Though some staff were still lovely, it was a regular thing to be treated differently, and I don't mean in a good way.
At an interview for a summer job (initially, we studied the same timetable as other students) the nurse manager asked me if I thought I was better than everyone else, she queried whether I had completed the degree course to meet a doctor and get married. The only job they could offer me was as an auxiliary nurse in care of the elderly, I would be working full-time and nights, a setup that the same nurse manager assumed I wouldn't want  because it wouldn't be good enough for me. I did take it and I loved it, it was such a great experience of nursing care and I have very positive memories of that job. My experience of the nurse manager was less positive, walking past me on a regular basis, never acknowledging my presence and speaking to everyone but me.
In some ways that feeling of being a bit of an outsider stayed with me. From the minute I did my health visitor placement I knew that's where I was meant to be. I had to become a midwife first, as luck would have it, we were the last group who had to train as midwives before becoming health visitors. I was a health visitor for 13 years, spending some time in a good team and some in one that didn't work so well. I followed this with a spell as a public health practitioner for 5 years, but only because I had my son and was working job share. Let's just say it wasn't the job for me. Then finally I found the job which was ideal for me. Community infant feeding nurse is a specialist post. I am involved in writing policy, training staff and providing specialist support to breastfeeding mothers with complex issues.
I decided to do a part-time PhD, maybe to distract myself  now that I was a team of one and  found the familiar feeling of being alone and apart returning. In 2017 I was middle-aged, exhausted, and unhappy. I had a feeling that may be familiar to others, I was running out of time, working towards retirement, with a constant nagging that I hadn't done enough, I hadn't made enough of a difference, and I never would. How could I?
Then I found the Queen's Nurse Programme. Since the day I started the programme, I could identify what I had been feeling; isolated. I knew I never wanted to feel that again, and I also knew I would never have to. I met with a group of very special people and we were nurtured but the course was tough. In our first week long residential we experienced mindfulness, creativity, master classes and action learning sets where we faced our demons from the past and thought about what was holding us back. I found my tribe and found home in nursing, maybe for the very first time. Even as I write that it feels kind of sad and I have a tear in my eye.
From the outside we may seem like an elite group, after all, there are only about 20 people a year accepted on to the programme. I wondered if history would repeat itself, expecting comments like 'Oh look at her, thinks she's something special with her tartan sash, her Ortak badge and certificate signed by the Queen'. It is a particular skill of Scottish people to put you in your place if they think you're  getting ideas above your station.
Those people could not be more wrong. Clare Cable is one of the most amazing, inspiring, and insightful people I have ever had the privilege to meet. She had a vision for Queen's Nurses that could not be further away from being an elite. Her vision was a group of nurses who would meet the most vulnerable of society right where they were, and walk with them, listening, working together, and improving their lives  in whichever way possible. It is no accident that some Queen's Nurses work with people who are homeless, addicts, prisoners, children, the elderly and some of the most marginalised people in our society and health care system. Addressing inequalities is our aim.
After completing the course, I started a secondment to a national role, Breastfeeding Advocacy Lead for Scotland. People asked me if my PhD or being a Queen's Nurse go me the job. I don't know the answer, maybe a bit of both. But the courage to apply, to embrace change, and certainly the way I do my job is totally because I am a Queen's Nurse.
That feeling of not being accepted in nursing from day one probably led me to put up a barrier and maybe the specialism, always working alone, was a way of protecting myself. Being a Queen's Nurse has freed me up to be the person I always could have been. I have a desire, actually a need, to work collaboratively and rather than holding power to myself; I throw it around like confetti at a wedding. I want more people to be involved in supporting breastfeeding, and mothers and babies in general. If I try to do everything very little will be done, if lots of us do a bit just imagine the possibilities!
What a joy the last few years have been. I am not yet ready to retire, I don't know when I will be. I should say that I am only 56, but I know that I have the time, the ability, and the desire to make a difference before the end of my career. I have seen people walk away from a 40-year career feeling glad to go, worn out, undervalued, and defeated, which makes me really sad. I won't be that person and that's because QNIS invested in me and gave me the tools to change, to engage again. I could wish it had been sooner but it was when it was meant to be.
So, Queen's Nurses are not an elite group, feeling special, sitting in an ivory tower pontificating about how to make a difference. We are out there, working alongside people whose voices are seldom heard, making a difference. Every. Single. Day. And we always will.