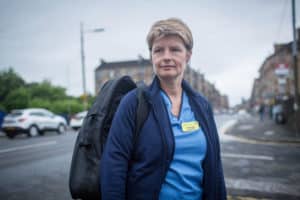 Today's we celebrate International Day of the Midwife 2020 with a blog from a community midwife who shares her account of her role during the pandemic. Hilary Alba, Queen's Nurse is senior charge midwife with the Special Needs in Pregnancy (SNIPS) team, in NHS Greater Glasgow and Clyde.
The message is everywhere….'support our NHS heroes on the frontline'!  The public has gone mad for us; singing and baking, sewing, and knitting, walking and running, with millions being raised for NHS heroes!  Saving lives and flattening that curve, 'donning and doffing' as we go.  Gowned, gloved and masked from dawn until dusk, clapped, saluted and praised wherever we roam.   From discounts and doughnuts, to rainbows and T shirts, free parking and our very own supermarket shopping hour, we're certainly in the spotlight.
I work as a community midwife supporting women with special needs, many of whom are asylum seekers or refugees, and my job has changed immeasurably in the last six weeks. Most importantly, I am doing fewer home visits. Communication is challenging at the best of times and working with the help of our telephone interpreting service is super tricky from behind a mask. The first visit is therefore more important than ever, to see a woman in her own environment – and this can result in a flurry of emails to facilitate delivery of everything a family needs, perhaps a cot pack or steriliser.
I am using the phone a lot more and having to ask women about how their nipples look and feel, whether or not they feel their legs are swollen and have they had a bowel movement yet. And that is hard to do with sensitivity, when you are unable to convey your compassion through the face to face 'caring touch'. Midwives visit for at least ten days in the postnatal period before conferring care to our Health Visiting colleagues, but COVID restrictions mean we rarely visit every day in order to minimise numbers of people entering a household. However, women really appreciate the daily phone calls, they have become life rafts on the COVID sea.
And it's not just about getting over childbirth, I can check that they have enough food, formula milk, and whether the Baby Box has been delivered. Sometimes the questions are not the usual post-natal queries, rather a plea to get the heating fixed or the leak in the bathroom attended to and liaising with other agencies is a core part of my role. Sometimes, I just call to say 'hello, I am here', and that is just as important.
The real heroes in all of this are the women themselves, many of whom are struggling to understand the current crisis as they do not speak or read English. They are the ones bearing the brunt of this hiatus, women who do not recognise the posters placed around the hospital telling them not to bring their children to appointments and to tell their midwife if they have a high temperature or a persistent cough. They are the ones who turn up to a cancelled scan appointment because they did not receive the letter as they had been dispersed by the Home Office into accommodation at the other side of the city.
I keep calm and carry on because I know there have been pregnant women throughout every other plague, war and pandemic in history, just as there have been midwives waiting to care for each mother and baby; and in 2020 they are gowned, gloved and masked, 'donning and doffing' wherever they go.