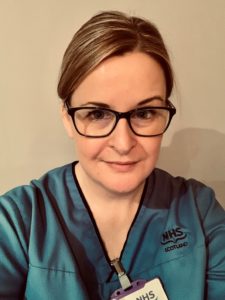 Lorna Bell won the QNIS Postgraduate Prize for QMU, and here she tells us her story.
Excited!
That is how I felt when I received the news that I had a place to train as a Specialist Practitioner District Nurse. Where I have lacked in academic confidence all of my life, I have made up for in passion and love for my nursing career. How do I describe the feeling this job gives me, the pride I hold, the dedication and the drive to do better? I don't think I can sum it up. I do however know the difference kindness made upon me as daughter to a gravely ill father, as opposed to the indifference expressed by another as granddaughter to a frail grandfather. I do know the difference of a good leader, a role model as opposed to a tiny dictator in navy blue.
I think I always knew I would be a nurse when I grew up. "Help people", that's what I said I wanted to do when asked by Alva Academy's career guidance counsellor back in 1997. Gaining my place at Stirling University and subsequently graduating with a Diploma in Adult Nursing, I embarked upon my nursing career. After four years of acute care I recalled how much I loved my community placement and so I embarked on my first community post in 2005.
Community Nursing has changed immensely since this first post. It is certainly much more complex with new challenges every day. What hasn't changed is that people are still people. We all have our histories, our stories, our passions and our worries. I believe as nurses we will get the best out of people if we see them, hear them and understand them first. If they believe we comprehend the importance of this, surely it makes sense that we will all then work together for the benefit of improved health and well-being? I do believe it so.
I believe it so that as a Specialist Practitioner District Nurse I will not only be able to make a greater difference to the health and well-being of others who may benefit from my knowledge and skills but I endeavour to be the strong role model and clinical leader required to support our current and future workforce. I look to my personal and previous professional experiences to act as a strong foundation on which to build my new venture and to be the best I can be.
Looking back to the beginning of my SPDN student experience, I considered myself to be an experienced nurse with a wide range of knowledge and skills. I had thought of myself as a good nurse, a strong team player and believed I did all I could for the benefit of my patients. "My patients". This was my first learning, "they" are not ours.
To be truly person centred I have learned the need to "know self". Being in my 40th year, I realised I had a jumbled understanding of myself. I acknowledged myself to be considerate and compassionate. I am calm, I am kind, I am hysterically funny (in my mind at least!) and I strive to do better. I have learned that to know myself, to recognise my values, beliefs and my life experiences has enhanced my ability to understand the benefit of becoming familiar with what is important to those I am nursing and to hold that as a valuable tool for my approach.
The balance of power is a challenging one I have realised. I have historically enjoyed fixing people. To be seen as a "good nurse" was and still is important to me but what I have learned above all else is that to fix people and to be a good nurse often means providing individuals with tools to support themselves through a sympathetic presence. Recognising what is important for individuals, to encourage them to be brave and facilitate change to benefit their health and well-being is empowering. Developing therapeutic relationships has allowed me to explore the stories of the individuals I support. This has proven valuable in understanding just why I have experienced struggles with engagement. I now understand the life experiences of those I support have an impact on their responses.
I have learned that as a future Specialist Practitioner in District Nursing I have the ability to empower other healthcare professionals and students within my team, for them to be brave, to challenge the status quo and to be the nurse that is truly needed – a skilled, reflective, person centred professional.
This combined approach of empowerment and recognising the power of person-centred practice has not only changed my professional approach to enhance the health and well- being of those I support and to be a stronger SPDN, I have flourished as a person.
Winning the Queen's Nursing Institute Scotland's (QNIS) Postgraduate Community Nursing Prize for 2019 is not only a huge honour, one of which gives me great pride and an enhanced sense of "doing well" but it also spurs me on to encourage others to embark on District Nursing as a career whilst supporting our current District Nursing teams to be the best they can be.