Alison Bunce is the Programme Lead for Compassionate Inverclyde, a volunteering project that runs several services tackling loneliness and isolation within the community. Alison was awarded the Queen's Nurse title in 2019. You can read her profile here.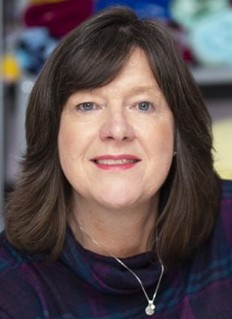 I have been in post as a Senior Palliative Care Nurse for just over five years now. During this time, I believe that two key factors have been instrumental to the success of Compassionate Inverclyde: obtaining a Florence Nightingale Travel Scholarship and becoming a Queen's Nurse.
Change only takes a spark. My interest in a public health approach to palliative care and compassionate communities was ignited approximately ten years ago after hearing Professor Allan Kellehear, an Australian Public Health academic, speak at a conference in Scotland.. His work in Australia focussed on engaging communities in conversation around difficult issues such as cancer, death, dying and loss. There were two examples I remember most strongly from that talk. The first was about getting important messages across to a community in ways that normalise them, like putting facts about prostate cancer on beer mats and having them in pubs where men congregate in everyday life. The second example was about engaging with schools and encouraging children to think about their personal experiences of care, Professor Kellehear invited them to write about their own experiences. I left this conference inspired.
When I returned from the conference to my then role as Director of Care at a hospice, I was able to disseminate my learning and implemented an exciting school's project like Professor Kellehear's example. From this one small project, my interest continued to grow, and I became determined to learn more about Public Health approaches to palliative (end of life) care and about creating Compassionate Communities.
I applied for a Florence Nightingale Travel Scholarship in September 2016 to explore these concepts in more depth and was delighted to be successful.
The scholarship allowed me to travel to Australia, the United States of America and around the UK to further my knowledge and experience.
My two primary objectives were:
To develop an understanding of compassionate communities and public health approaches to palliative care by comparing projects in Australia, USA, and UK
To adapt and develop approaches relevant to UK requirements for implementation on my return.
As part of the scholarship, I visited the Health Connectors Programme in Somerset, the Compassionate Neighbours Project at St Joseph's Hospice in London, the No One Dies Alone Programme at an Ohio Metro-Health Hospital and four other locations in Sydney.
I have always had both a personal and professional interest in trying to improve the experiences of people facing the end of their lives and those of their loved ones.  By empowering communities and encouraging the ordinary people that live in them to recognise that we all have an important role to play alongside health care professionals. Through increased research and understanding I aim to provide the very best support at times of crisis, loss and at the end of life.
But what are Compassionate Communities? The term actually comes from the concept of 'Compassionate Cities', developed by the aforementioned Professor Allan Kellehear. He reminded me that health is everyone's responsibility and that this includes death, dying and end of life care. His vision of 'Compassionate Cities' is explored in more detail in his book of the same name (Compassionate Cities: Public health and end of life care 2005).
Compassionate Communities aims to build community capacity to support people approaching the end of their life. It encourages communities to support people and their families who are dying or living with loss. The goal is to enable all of us to live well within our communities until the very end of our lives.
Compassionate Communities is a global movement and recognises that caring for one another at times of health crisis and personal loss is not solely the responsibility of health and social services but is instead of everyone's business.
In a Compassionate Community, the needs of all the people of that community are identified and met, the wellbeing of the entire community is the priority, and all people and living things are treated with respect.  More simply, people are motivated by compassion, and this creates a thriving, resilient community, whose members can confront crises with innovative solutions. A community confident in navigating changes in the economy and the environment is a community resilient enough to face the ongoing challenges that all societies face. (Kellehear, 2005).
My scholarship tours across the globe clearly demonstrated to me that every community is different, all with their own unique history, a mixture of diverse cultures, languages, habits, and histories. Every community has followed a unique path but what they had in common was a desire to engage all citizens in building a movement based on compassion. Sharing the teachings of inspirational and imaginative leaders infused with energy and passion ignited the hearts and minds of ordinary people.
During my travels abroad to the University of Technology Sydney and University of Western Sydney, Australia, I met with the world-leading researchers in relation to Social Capital and Compassionate Communities. I attended and was invited to speak at a National Symposium which was run by the Compassionate Communities Network inviting the people of Australia to become part of the global movement of creating compassionate communities at the end of life. The key message from the National Symposium was a call to action to all attending, initiating a national conversation asking everyone to consider how they can create a compassionate community in their geography.
I also spent time at Metro-Health Hospital in Cleveland, Ohio and Lincoln Health, Maine allowed me to observe their established 'No One Dies Alone Programme and learn about the operational implementation to run such a programme successfully. My time observing this programme was invaluable as this is one of the programmes we implemented in Inverclyde.  Part of this American tour also allowed me to visit two very different Hospices, Malachi House for homeless people at the end of life and Ames Hospice a private hospice care facility. Although both were hospices providing end of life care, their facilities were very different. Malachi House was an old house with a homely, comforting atmosphere providing care for people with no financial means to pay at the end of their life. The staff who worked there were like family members to the residents, cooking, cleaning, providing care and surrounding them with love. Ames Hospice on the other hand had been purpose-built, a beautiful building in beautiful surroundings providing care for patients with the means to pay. The staff provided specific care aligned with their roles, this was closer to the hospice care I was familiar with.
Closer to home I visited Frome in Somerset and St Joseph's Hospice in London. These meetings each provided me with an overview of service development initiatives in the UK. I gained experience of the Compassionate Neighbour programme and another model based on 'Health Connectors'. Both are innovative new social care structures that provide support to people in the community.
Throughout my global tour, I gained an increased awareness of the role of 'ordinary people' working alongside healthcare professionals. I was also struck by the importance of kindness, connecting with others and building relationships. Having witnessed and experienced a deep sense of openness, presence, and hospitality throughout my travels I experienced this kindness firsthand.  I recognised that these qualities could build and transform lasting relationships – they bind families together, change strangers into friends, and even turn competitors into neighbours.  Kindness and deep hospitality are essential for developing a compassionate community.
All of the people I met throughout my travels were 'first followers'. Sivers (2010) believes the first follower is just as important to the development of a movement as the initiator. The first follower gives the leader's viewpoint credibility.
Becoming a Queen's Nurse was an inspirational journey. I was privileged to be awarded a place on the 2019 Queen's Nurse Programme and joined a cohort that encouraged me to become the very best nurse I could be. Their support made me determined to become a 'first follower' as I journeyed towards developing a compassionate community. Throughout the programme we were encouraged to be creative thinkers, to grow into tall poppies, to be bold, brave and bonkers and I have used these attributes in abundance most days.
Obtaining the scholarship and becoming a Queen's Nurse gave me the confidence and self-belief that I am able to solve difficult problems. I remember feeling some apprehension about travelling to Australia by myself. It was so far away, and I didn't know anyone personally. However, I succeeded in pushing past this and travelled to all my destinations without a hitch and met so many wonderfully kind people along the way.
The Queen's Nurse Programme has allowed me to become a confident leader and a catalyst for change. I am now part of a nursing network and social movement that has a collective responsibility for improving the wellbeing of ourselves and others.
Compassionate Inverclyde has developed into an award-winning and inspirational social movement which has been supported by Ardgowan Hospice and the HSCP since January 2016. It is helping to transform attitudes and everyday practices around loneliness, social isolation, death, and bereavement across Inverclyde.
Our ethos is fundamentally about local people working alongside existing formal services enabling ordinary people to do ordinary things for ordinary people, tapping into our desire to be kind, helpful and neighbourly.
Relationships are at the centre, as are shared values that enhance community, relational and individual wellbeing. Ordinary people are part of a dynamic, growing and largely self-organising social movement of fundraisers, volunteers, befrienders, companions, community cafes, compassionate schools, businesses, and neighbourhoods.
I am truly grateful that my work gives me energy and feeds my soul. I am one of those lucky people in a job that fits me like a glove.
References
Kellehear, A. (2005) Compassionate Cities: Public Health and End-of-Life Care, Routledge, London.
Sivers, D. (2010), How to start a movement, Https://www.ted.com/talk/derek-sivers-how-to-start-a-movement, (accessed 17 November 2017)