QNIS has taught me a lot over the course of 2019, but its biggest lesson, has been by far, has been be brave and have your story heard.  
The project I embarked on as part of the Queen's Nurse Programme was never supposed to be public, but with the support of my managers and QNIS it seemed that it was a story I should tell.  
My father passed away in Crosshouse hospital in April 2019, surrounded by his daughters and wife, he was surrounded by love, compassion and care. 
All the dynamics that come with a big family; all the bickering, all the laughs, all the carry on we shared, were insignificant on Easter Monday as we gathered round to say our final farewell to my father. It hadn't been that long since we had been in a similar position, losing my grandfather. It was all very eerily familiar. The pain was still palpable from losing him. 
However, the story of my father starts much earlier.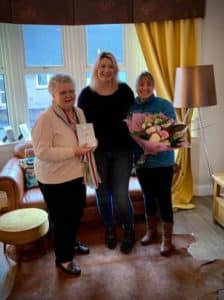 He had had been in the building trade all his life, and it was because of this that he never wore a wedding ring. To my mother's dismay, he point–blank refused. Always muttering about the safety on a building site and how dangerous it was to wear jewellery on site. In his later years, I think it was just a habit he had gotten into. 
The day before he died, he called me into his hospital room and asked me to go home to bring in his wedding ring – he had kept it in his bedside drawer all these years. He wanted to surprise my mother by wearing it. The consultant had told us he had leukaemia only hours before and the likelihood of him surviving to see Christmas was now greatly reduced. 
That night, I went home and retrieved his ring, returned to the ward and put it on his finger. My mother and him spent a few hours the next day together, where they both spoke to each other and spent what was to be his last few hours chatting and talking about happier times. He passed away the next day surrounding by family. He was wearing his wedding ring. 
The team in the ward were some of the strongest and touching people I have ever met, it seems strange that the faces that I pass in the hospital every other day have left such a significant impact on our lives, yet they only came to work to do a job. I wonder if they know that families always remember the extra cup of tea the staff nurse brought me at 2am, or the domestic staff that brought an extra cushion for my mum as she sat during the night holding my father's hand, the ward manager who listened to all my fears as I sobbed in her room or the Consultant who, despite having been on all week, gently prompted me to a better understanding of my father's prognosis? 
As they began to prepare my dad for us to see him for the last time, I asked for them to remove his wedding ring to keep it safe. They did as we wished and returned it to my mum in a small brown envelope to keep safe. 
The following week it was still in the little brown envelope. 
It struck me as strange that the last final bit of a person we lose is in a little brown envelope. The bit of metal that they cherished for so long tucked away. How many people do you know that still wear their mother's wedding ring, or a bit of jewellery that belongs to a family member? It seemed sad that it had been demoted to the brown envelope. But where else could it go? What was small enough to not be problematic for storage in a ward but also named for the practical safe keeping with a name and date of birth? 
I approached a card company I had seen online (UK Greetings) and asked them if we could make a design – a little ivory card with ribbon on it – so that when a person passes, the care team can tie a ring or bracelet onto the ribbon so it doesn't get lost in a brown envelope and reflects that the staff of Ayrshire Care.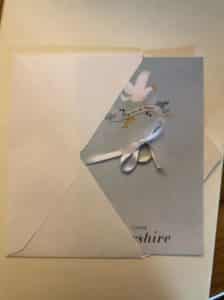 Just before Christmas, Louise Makin from UK Greetings contacted me to tell me they would print my design free of charge, and forward on the artwork file.  Not only did she print them free of charge, she hand delivered them from Yorkshire – a surprise gesture I was totally overwhelmed by. 
The full design is worded with 'They are at peace'.   
The design is made to be non-denominational, to be used by anyone regardless of religion. The middle section can be removed in order to facilitate fingerprints of the loved person if requested. 
And the top portion (with the wording) can be cut to make the card plainer. 
I would be delighted for you to share my story of the brown envelope and the wonderful care received in the NHS, however I would ask that if you ' Tweet about it '  please include @UKGreetings, who very kindly printed them free of charge and hand posted them from Yorkshire . 
I hope you find them of use and value. 
With love. 
Gayle Ridge, Queen's Nurse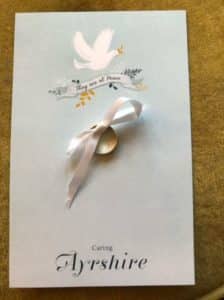 Professor Hazel Borland, NHS Ayrshire and Arran Nurse Director, said: "Using her family's experience, Gayle has developed a beautiful idea which will strike a chord with all members of staff who have been privileged to care for someone and their family at the end of their life. Thank you Gayle for sharing your story and coming up with such a simple and compassionate solution."