The Near Me project initially aimed to connect nursing students in the remote Formartine area, providing a solution to rural transportation challenges. However, the pandemic prompted an unexpected shift, with the team becoming pioneers in using Near Me for virtual family visits. While challenges arose, the project persevered and Near Me now serves all of Aberdeenshire. The project's next phase introduces Near Me Groups, a platform now being piloted by Queen's Nurses Nikki Forsyth and Fran Nice. In their blog, Fran and Nikki come together to share their journey with the project, showing its profound impact on digital solutions for families and children.
The Formartine Health Visiting Team in Aberdeenshire, showed early interest in using Near Me. From 2019 we were eager to explore the potential of the new virtual communication platform. Initially, our goal was to link pre-registration student nurses with rural areas for their placements. Little did we know that Near Me would evolve into a vital lifeline during the turbulence of the COVID-19 pandemic.
With the outbreak of the coronavirus pandemic in March 2020, our approach swiftly transformed. We initiated a pilot project to leverage Near Me for interactions with children and families. The platform became our bridge to maintaining crucial connections and providing support when in-person home visits became impossible. It was this adaptability that made us realise the profound potential of Near Me.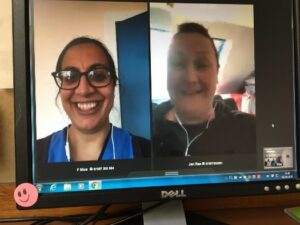 As we witnessed the platform's effectiveness, we felt compelled to extend its use beyond our initial intentions. We widened our support to all seven areas of Aberdeenshire, enabling them to harness the power of Near Me. While many health visitors embraced the platform successfully, we also faced our fair share of challenges. Inadequate equipment and connectivity issues posed significant hurdles. Additionally, prolonged screen time began to impact our own wellbeing.
To address these challenges, we not only navigated them but also took a proactive stance. We formulated comprehensive guidelines and actively participated in webinars to raise awareness and support the wellbeing of our fellow health visitors. This experience highlighted the significance of not only embracing technology but also ensuring it complements our professional and personal lives and the lives of those in our care.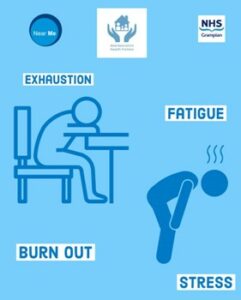 The pandemic accelerated our reliance on technology and altered the way we work. Even as COVID-19 restrictions eased, hybrid working, and online meetings remained prominent. However, this presented a unique dilemma for health visitors, family nurse partnerships, and school nursing teams. As named persons, we often found ourselves unable to use certain platforms (including Zoom and Teams) due to stringent data protection regulations.
This challenge prompted us to embark on a fresh journey. In the Formartine and Garioch Health Visiting and School Nursing teams, we initiated a pilot project with Near Me Groups, an innovative improvement to the platform introduced in 2022. It boasted the capacity to accommodate up to 70 participants, making it ideal for larger meetings.
Our pilot project commenced on March 30, 2022. To gain a comprehensive perspective, we encouraged all staff members who used the platform to share their insights. The feedback was overwhelmingly positive. The platform's ease of use, collaborative potential among multi-agency colleagues, and its ability to ensure data security and confidentiality were highlights.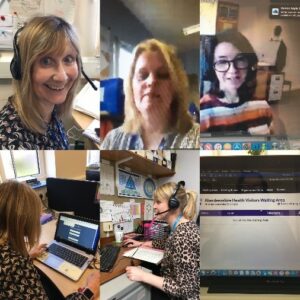 One aspect that particularly stood out was the considerable time and travel expenses saved. This was especially beneficial as it allowed parents to participate from the comfort of their homes, eliminating childcare concerns. Recognising the profound impact of this flexibility on our service delivery, we eagerly embraced the opportunity to better cater to the needs of the people we serve.
Nonetheless, challenges persisted, with connectivity being a primary concern across our region's vast rural areas. Digital availability was another issue, as some devices required updates for optimal functionality. To mitigate these challenges, both teams implemented test calls before meetings, offering reassurance to participants about their ability to access the platform.
Ultimately, Near Me proved to be a resounding success. It provided a secure online meeting platform that upheld data privacy and confidentiality. This leads us to a pivotal question: in a post-pandemic world, where some normality has returned, does technology still have a place in our profession?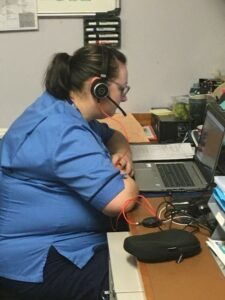 The answer, we believe, lies in shared decision-making. With the removal of restrictions, we can now offer choices: face-to-face or online meetings? We must consider various factors, including childcare, travel, and the preferences of our clients, especially the younger generation, who are digital natives. Engaging in shared decision-making empowers clients to choose how they interact with our services.
As we reflect on the transformative impact of Near Me, it's clear that technology remains an essential tool in our health visiting toolbox. It has revolutionised our working practices, reduced travel time, and, most importantly, helped us to continue connecting with children and their families in a meaningful way. The future of health visiting lies in personalised, hybrid models that blend online and in-person options, providing a more tailored approach to care. Providing choice makes us better guests in the lives of children and families.
Near Me has reshaped our professional landscape, offering new ways to connect and care for our clients. As we look to the future, we're excited about the possibilities this technology presents in our ongoing commitment to providing the best care possible to those we serve.
Watch Fran's video developed as part of the Digital Leadership Programme she undertook at NES: https://www.loom.com/share/1f179c9de94d4dffbe25832a233f4b0d
Fran Nice, Health Visitor Formartine Aberdeenshire, Nikki Forsyth, Team Leader, Garioch, Aberdeenshire and Tasha Prigmore, Queen's Nurse Institute for Scotland.