Caitlin Henderson, the QNIS Undergraduate Academic Prizewinner from QMU tells us about her passion for community nursing.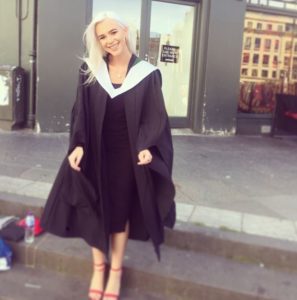 Receiving the QNIS award for community nursing at undergraduate level in the Honours year of my nursing degree was a huge personal achievement. Throughout my nursing programme I focussed much of my work on the delivery of nursing care in primary care settings, particularly in my final two years, and this award felt like amazing recognition out with the realm of the university.
My passion for community nursing ignited in the early stages of my nursing journey and has grown and developed through placement experience and theoretical studying. Having been lucky enough to experience my final 15 week placement within a district nursing team, this further cemented my desire to work within the community but most poignantly, gave an invaluable and unique insight into the importance of the role of the community nurse.
I particularly enjoy the truly holistic nature of nursing within the home environment, and the organic opportunities which are available in relation to "knowing"  patients. Assessing individuals within their own environment allows person-centredness to filter through from the planning to the delivery of care, and this is difficult to replicate in any other setting. It is an honour and a privilege to care for individuals within their homes, and in terms of comprehensive and complete understanding of patient needs and desires; this position is crucial. The autonomous nature of community nursing care is defined least by the development of more independent practitioners and mostly by its empowerment of the individuals receiving care, allowing them to be partners within their healthcare provision.
Demographic factors such as a growing population and increasing healthcare needs highlight the requirement of services and practitioners to understand that primary care settings boast the ultimate utility in addressing these challenges. Additionally we now know that statistically people largely wish to be cared for at home, and as we are striving for movements into more person-centred ways of nursing, community nursing facilitates this ethos whilst meeting public needs.
Community nursing has historically engendered social care and healthcare provision ahead of any official policy, with its interfaces of care located in the social settings of individuals.
It is with ongoing research and development within community nursing that we can enable ourselves to be truly holistic in our practice whilst sustaining effective care and balancing demographic, political and social needs.
I hope that as I transition into practice I am able to see this future of nursing develop.
Many thanks for reading this
Caitlin