This blog was written by Queen's Nurse Suzanne Turner. She is a Civilian Nurse for the MOD and was previously based at Fort George, Inverness where this gathering was held.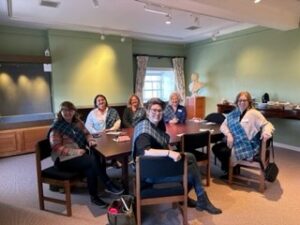 In 2017 the title of Queen's Nurse was reintroduced to community nurses in Scotland. They can be found in all parts of Scotland from the islands of Orkney down to Dumfries & Galloway, from the isle of Skye to the granite city of Aberdeen.
As the fellowship of Queen's Nurses continues to expand each year, I thought it might be a wonderful opportunity to bring together nurses of the Highlands and Islands who all work in diverse areas. The concept was initially a get-together, a type of 'lunch and learn'.   
The shout went out on Twitter and before long 12 nurses were added to a WhatsApp chat. On the day I was joined by Helen Gilpin, Eilidh Wilson, Michelle Duffy, Jaime McNab (nee Smith) and Joanna Taylor. We were a diverse group working in various settings.
I am currently the only MOD civilian nurse who is a Queen's Nurse in Scotland. A title that means so very much to me. I had the privilege of providing healthcare to infantry soldiers (3 SCOTS, The Black Watch, 3rd Battalion The Royal Regiment of Scotland) at Fort George which is located on a little 'spit of land' to the east of Inverness.  A formidable construction which was designed post Jacobite rebellion in 1745 on the orders of the Duke of Cumberland.  The Board of Ordnance appointed William Skinner as Director of Engineers for North Britain, he was tasked with finding a new site.  Skinner completed his survey in 1747 and his recommendations were accepted by the Board.  His plan was to build a Fort covering 42 acres.  The barracks were designed to hold a garrison of over 2000 men and was to be entirely self-sufficient, with its own storehouses, a bakery and an inn.  It was the biggest construction job in the Highlands with work beginning in 1748. The construction was completed in 1769 and has been occupied by the military ever since.  
Much chat was had around location to hold the gathering.  We needed to be mindful that some would be travelling quite a distance, so somewhere central was essential. I had a lightbulb moment, why not hold it at Fort George?  I had been working there for the past 5+ years but due to estate rationalisation the medical centre and staff had been relocated some 20+ miles away at Kinloss Barracks.  I contacted The Highlanders Museum, which houses The Queens Own Highlanders collection, located within the Fort.  In fact, the museum is housed in what was the Lt Governor's residence and well worth a visit.  The room was secured, and vitals such as lunch, tea and coffee organised! 
A list of names was provided at the ticket office (just in case they were inadvertently mistaken for tourists), and I greeted them at the front gate.  Once settled in the meeting room the chat began, introductions, areas of working, the QN programme and benefits it brings. This was followed by some Capacitar wellbeing practices led by Eilidh Wilson and Helen Gilpin, followed by a potted history of Fort George by me.  Interestingly, in 1782 the ordnance storehouse was converted into a hospital. It included a surgery, two small wards and one large.  In 1850, following dramatic improvement to nursing initiated by Florence Nightingale, and with the return of the Regiment to Fort George the old hospital was reconfigured and given an extensive facelift. In 1906, Soldiers, Sailors and Families Association appointed a nursing sister and obtained permission from the War Office to build a nursing cottage. There were still no wards for sick families and babies continued to be born within the barracks until 1913 when the War Office built a small maternity hospital. In total 353 babies were delivered in the hospital during the 21 years' service of one nurse, nurse Owen. 
A fab lunch was enjoyed which was followed by a session using At My Best Cards, a great resource to instigate conversation around appreciation of self and others allowing a safe space for discussion. 
It was then time to face the elements. A tour of Fort George including the ramparts, the kirk, barrack block, black hole (holding cell), guard room and the pet cemetery where the regiment and battalion pets have been laid to rest.  The Fort is world renowned for opportunities to spot the Moray Forth pod of dolphins but unfortunately on this occasion it was not to be.  A splendid day was had by all.  It was fantastic to be able to show other QNs where I had worked, and they were able to understand some of the complexities of modern-day military living in an historical building.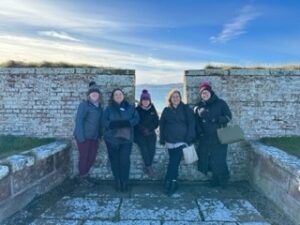 On leaving the museum and passing on thanks to the staff for their hospitality, one member of staff commented "it must have been a fun day as all we could hear was laughter" which just about sums up the day.