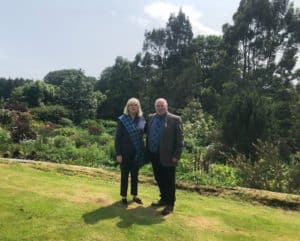 Queen's Nurses Lorraine Haining and Kelvin Frew recently visited a garden opening under Scotland's Garden Scheme. Here, Lorraine reflects on their day…
Balker Farmhouse is on the Stair Estate near Stranraer in South West Scotland. The garden was originally a ploughed field which was restored in 2002 and the garden started in 2003-4 by Davina, Dowager Countess of Stair and Anne-Marie Mitchell. It is now full of wonderful shrubs and plants for all seasons, and has been opened in memory of Davina, who died in 2017.
The garden held an open day on Sunday 2nd June and myself and fellow Queen's Nurse Kelvin Frew were asked to attend to support Scotland's Garden Scheme and raise awareness of the Queen's Nursing Institute Scotland.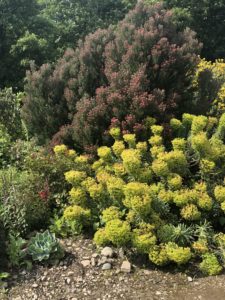 Scotland's Garden's Scheme was originally created in 1931 in order to fund the training, salaries and pensions of Queen's Nurses, so we have a long shared history. Kelvin and I were made very welcome by the team of volunteers who had given up their time to support the cause.
I have recently taken up gardening as a hobby and was very keen to attend and was not disappointed! Despite living in this area for almost 40 years I have to admit I had no idea this little haven of beauty was here. The variety of shrubs, trees, flowers, beautiful scents, colours and patterns were incredible. The views of surrounding country side were breathtaking and no matter which direction you looked, there was so much to appreciate. The ladies who provided the afternoon teas were just a delight and the home baking was a real treat.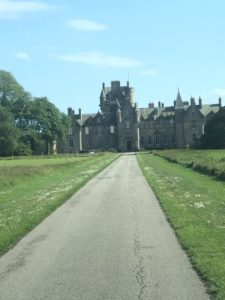 There were many locals who came along but a lot of holiday makers also visited throughout the day. It was lovely to watch the joy people were getting from the experience. A time was set aside for us to speak to the visitors in the marquee and they seemed very interested in QNIS and the work we do.
It is lovely to have made these connections and we hope to continue to develop robust relationships with local supporters of Scotland Garden Scheme.