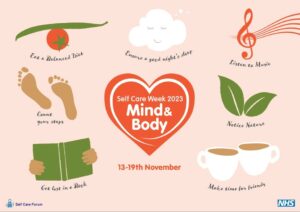 Helen Donovan, Chair, Self Care Forum, Queen's Nurse and Independent nurse consultant and immunisation specialist nurse. 
During Self Care Week (13 – 19 November), which is the national awareness week to promote the benefits of self-care, I am inviting colleagues in the nursing profession to "self-care for life".  
National Self Care Week, which is organised by the Self Care Forum, is a time for all of us working in health to come together and support people's self-care practise.  Indeed, nurses have always led the way in helping people to take better care of their own health and wellbeing whether advising on minor health concerns, managing long term conditions, or how to avoid preventable diseases.  
We hope you will proactively get involved in Self Care Week this year and there are lots of resources, tips, and case studies on our website to help you.  As a fellow nurse however, I would also encourage you to take stock and use it to think about whether you are doing enough to care for yourself.   
We rarely prioritise ourselves, overlooking what we should do to keep ourselves fit and healthy because we are too busy looking after others, whether our patients or our family members.  
A 2020 report entitled "The Mental Health and Wellbeing of Nurses and Midwives in the UK" by Supporting Occupational Health and Wellbeing Professionals, highlighted that nurses and midwives are at a considerable risk of work related stress, burnout and mental health problems such as depression and anxiety.   
And, in the last 3 years since this report was published, we've had to cope with further pressures such as the pandemic, the cost-of-living crisis and strike action, which is why, this Self Care Week, prioritise yourself!   
Here are a few ideas of how you can incorporate small changes into your daily life to make a difference to your health:  
Hydrate when you can – it's not unusual for nurses to go an entire workday without drinking any water.  We ensure water is available for our patients because we know it's vital to health, so let us give ourselves the same consideration. 




Get some fresh air – it is really important to take breaks and mostly we take them on site, but getting outside even for 10 minutes can boost our mood. So, if there is a park nearby, a couple of laps in the fresh air will do wonders.  If you can't make it to a park a brisk walk around the block during the day, will also help. 

 
Eating healthily – when faced with chips or salad in the staff canteen it is difficult to go for the healthy option. So, try to make time to prepare a healthier meal at home to take to work, saving money as well as being healthier.  Snacking on fruit and nuts can also help us get through the day rather than dipping into chocolates left by our patients' relatives. 

 
Back health – it is easy to put stress and strain on our back so pay attention to health and safety procedures to protect your back health.  In 2018, more than

40% of NHS staff reported

to be suffering from back pain.  Globally it is said to be one of the most common causes of disability with UK costs estimated at £10bn. 

 
Protect your mental wellbeing – nurses are busy, caring for others both inside and outside work so, take some time for yourself to let go of the stresses of the day, whether it is exercise, socialising or enjoying a long soak in the bath. 

 
Let Self Care Week be the nudge you need to focus on what to do to look after you, it is ok to prioritise yourself.  For more help, go to QNI Scotland's "wellbeing" page for inspiration on how to self-care.  
We hope you will also get involved in Self Care Week even if it's simply putting up a poster, putting our webinar recording on your TV screen in the waiting room or sharing our factsheets with your patients.  Go to the Self Care Forum's website for more ideas, or subscribe to our mailing list for updates. And don't forget to follow us on social media.