Alison O'Donnell reflects on her return to a nursing role as part of the COVID-19 vaccination team.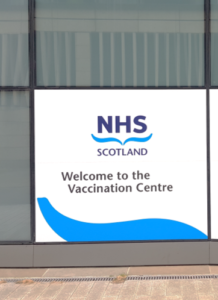 I retired as a lecturer in nursing from the University of Dundee in 2014 but kept on my nursing registration as I was still co-supervising two PhD students as an honorary lecturer until 2017.   
When my registration came up for renewal in 2018, I decided that I really didn't need my nursing registration anymore and chose not to renew it, thinking, why would I need this?  Little did I know! I had my 60th birthday in September 2019 and we went off on a holiday of a lifetime in late September 2019. I remember coming back from holiday and thinking, that this was now the 'retired chapter' in my life and my working days were over. 
As world events emerged in late 2019 and into 2020, I watched the daily news and Covid briefings, and wanted to do something to help. So decided to apply to go back on to the emergency Covid-19 nursing register in February 2020. As the pandemic took hold, I was offered various jobs, but most of these were to work on wards or in call centres, which I felt I was not really the right fit.  
Then surprisingly, on Christmas Eve 2020, an offer of a Band 5, 16 hours per week as a vaccinator at a mass vaccination centre came into my email. I replied and was accepted in mid-January. I completed 14 modules of online learning and compiled a folder of evidence for my induction day. I started at the beginning of February 2021 with my first late shift in a long, long time!    
It seems that in 30 years of time passing, 'the butterflies in your stomach feeling' of starting a new thing had not diminished. All the usual questions of, 'will I be competent?', 'where are the changing rooms', 'where do I get my lunch' and most importantly, 'where are the toilets?' ran through my head. Everyone was very welcoming as we were all in the same boat, and by the time my first break came around on my first shift, I had been signed off as competent, so this felt really good. Since then I can honestly say it's been one of the most rewarding things I have ever done.  
It was slightly disconcerting to see myself in uniform again, but in a good way. It is still odd to see my uniform on the pulley and I seem to spend my time saying, 'I'm away to iron my uniform and get my bag sorted out for tomorrow'. 
Since February 2021, I have met many interesting people, both in my professional colleagues and with the public who have come to get vaccinated. 
Most, but not all, of the vaccinators are retired from the NHS. There are a number of retired hospital nurses, community nurses, health visitors, GPs, consultants, dentists, physiotherapists, occupational therapists, and other related healthcare staff, as well as nurses currently working in their own roles whilst undertaking a vaccinator role. As well as this, there is a core team from the current NHS vaccination teams who have wealth of knowledge to draw on. Some retired clinical staff are also volunteers.  
Interestingly, the talk and conversation of nurses, and nursing, remains more or less the same, even after 30 years. It is motivating to be back in the company of nurses and other healthcare colleagues.  
The other key factor that hasn't changed is the need and ability to communicate with people.  Times have changed, but you still need to be able to talk actively and effectively to gain a person's trust in a short space of time. I still feel that having the ability to be an able communicator is a core and fundamental element of being a nurse.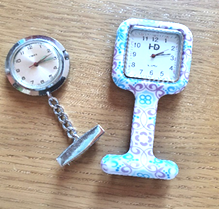 I have laughed a lot with people, but I have also been overwhelmed and humbled with the life stories that people tell you about themselves, and the fact that they trust you with their personal information.  
Another aspect of being part of this process is that a number of the people coming to get vaccinated are also overwhelmed with the sheer scale and size of the current mass vaccination programme. It's not unusual to find people are overcome with the fact that the NHS is undertaking this endeavour effectively. Historically we haven't really ever had this scale of a mass vaccination programme within the lifetime of the NHS.   
This was really borne out during the first few weeks of February 2021, when we were vaccinating people who were over 80 years old, some of whom had never been out since the first lockdown and so were incredibly nervous and often upset. People were so keen to talk to someone new, you got their whole life story in a few minutes.  Most people are inordinately grateful that you are vaccinating them – it never ceases to amaze me that people thank you for injecting them!     
I quickly learned and develop a narrative to glean someone's personal history with a few pointed questions, and then following the algorithm online, I could make a judgment on their suitability for vaccination or where I might need to seek advice.     
Given the times we find ourselves in, some people are understandingly frightened of the publicity surrounding some of the vaccines, but once you talk to them and answer their concerns effectively, often they consent to have the vaccine.  Some people do not consent and on principle will not have their vaccination. 
I continue to enjoy my vaccinator role and would like to carry on as long as is possible. Every day is different and now the numbers of people coming forward are increasing which is great to see and it keeps me busy!