Ruth-Ann Welsh, Undergraduate prizewinner for Abertay University offers some words of wisdom.
As a first year mental health nursing student I had very little knowledge about the role of a community mental health nurse or the challenges that lay ahead, I would like to start my blog by offering three pieces of advice for students about to venture out on their first community placement:
Avoid wearing thin trousers or tights, house cats seem to instinctively identify fabric that ladders with ease.
Budgies, although adorable, are prone to bouts of verbal abuse; try not to take it personally.
Be flexible- you never know what people have planned for their day, during my community placement I found myself installing furniture and playing bongos in a band. A small toolkit never goes amiss.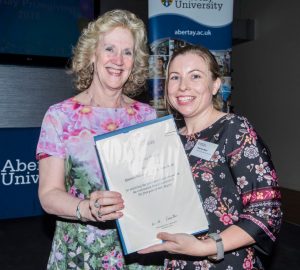 My community placement made me aware of how sharing in everyday experiences can offer valuable insight and develop meaningful therapeutic relationships. For example, with the exception of a recorder (which my mother swiftly "mislaid") I had never played a musical instrument before in my life. Playing bongos with a well-rehearsed band was exciting but also made me feel a bit vulnerable, however I knew that the individual who had written a song about their experience of hearing voices was exposing their inner most feelings to the group, so playing bongos and being out of my comfort zone was my way of showing respect and appreciation. As for assembling furniture, possibly the best resource in the world for creating positive therapeutic relationships, laughter, tears, frustration, denial, blame (who lost the Allen key?), anger, problem solving, acceptance, success, achievement- and that's just attaching drawer handles. In the community being flexible means acknowledging the worth of what is important to the individual beyond our professional agenda and knowing this is possibly the most valuable piece of my toolkit.
During our time at university we have explored recovery approaches, not in terms of 'getting better' but in regards to the subjective meaning of wellbeing. Chandler, Bradstreet and Hayward (2013) discuss the potential of a health care professional to characterise an individual in the 'sick role', consequently carrying a sense of hopelessness for them. Although I make light of my experiences in the community I defy anyone not to carry hope for an individual when you are able to gain a holistic insight into their reasons for purpose, after all someone has to feed the cat and teach the budgie to curse at student nurses. When reflecting on my community placement I feel that my most valuable learning experience is that I should never define an individual by their diagnosis; you would think that in 2016 this would go without saying but it is surprising how quickly you define yourself by your professional role. I am at the start of my journey and I am unsure of my destination although I hope it lies in the community. I think the experiences during my community placement gifted me the antidote to labelling, there is always an opportunity to recognise the gestalt nature of the individual far beyond that of the 'sick role' I am certain this is the lesson I will carry with me into my future career regardless of the setting; after all, toolkits are made to be carried with you.
References
Chandler., R, Bradstreet., S, Hayward. M., 2013. Voicing caregiver experiences: Wellbeing and recovery narratives for caregivers. 1st ed. West Sussex: Fairhill & Bryant LTD.
Ruth Ann Welsh
QNIS Prizewinner – Abertay University