21st Feb 2019 marks the first ever UK Mental Health Nurses day.  The focus of the day is to to gather together voices and experiences from across the UK to celebrate, describe and promote Mental Health Nursing.  To mark this Mental Health Nurses Day, we asked a number of our friends, Fellows and Queen's Nurses to write blogs on various aspects around being a mental health nurse.  We have three to highlight during the day.  Our second is a piece contemplating what it means to be a community mental health nurse in 2019 from Queen's Nurse Gerry Hastie.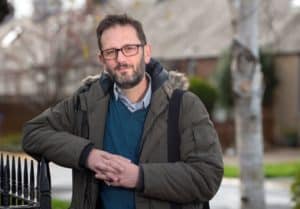 My profession started with formalised training and preparation programmes dating back to the late 1800s and early 1900s. This saw the transition from psychiatric hospital attendants to nurses and the emerging professional values we associate with nursing as a whole.
As the knowledge base about how to treat and respond to people with mental health problems developed, so we see the development of mental health nursing. With advances in psychological theory, psychiatric diagnosis and treatment as well as more a developed understanding of the social situation of those who suffer from mental ill health – particularly the shift from hospital or asylum based care to community care – came a broadening of the mental health nursing role. Mental health nurses work in a variety of settings and with broad groups of people who use services from Child & Adolescent Mental Health to Old Age Mental Health via Addictions, Primary Care, Day Hospitals, Rehabilitation in both community and hospital settings, liaison settings and in-patient services for those 'acutely' ill or distressed as well as forensic settings. Mental health nursing is a key profession in dementia care from post diagnostic support and input to nursing home care. I couldn't possibly capture it all in this blog piece. Apologies if I've missed anything!
One hallmark of the nurses role in mental health has been that in addition to nursing ideas about person centred caring we are great borrowers of knowledge from other disciplines – from psychiatry, psychology, psychotherapy, sociology  – and mix it with the desire to provide skilled care where we help a person and often those close to them to understand and adapt to their mental health difficulty.
Mental health nursing has a strong recovery focus in the modern era. We want the people who use our service to live their best life possible. In the last couple of decades we have seen the increased emergence of more non-statutory types of support typically called the third sector. From tenancy support to employability projects, the range of recovery resources has increased allowing for a deeper sense of connection in communities that can be so helpful in reducing the stigma and isolation caused by mental health problems. This may sound more aspirational than reality but it does reflect the values of services today.
Our health and social care services are challenged with meeting the demands of people who now live longer and have complex needs having more than one health problem. We have been living through nearly a decade of austerity that has meant that social care services are pared to the bone with ever competing demands on the health service work force. Health & Social Care Integration is too new to be fully understood in terms of it's impact in reducing duplications between health and social services. Hospital beds are fewer, everything is at a premium and nurse pay, like so many in the public sector, has stagnated.
I work as a Community Mental Heath Nurse as part of a multidisciplinary team within a secondary care service. Our caseload is those who live at home but may need episodic, temporary periods of time in hospital. The lived circumstances of the person can have a great impact on their recovery potential and expectation. The complex needs of our service users is characterised often by trauma whether adverse childhood events (ACEs) or other traumas along life's path (often both) as well as the eroding effects that poverty and deprivation has on communities. Many of the conversations I have at work are about really difficult things like fears, mood problems, suicidal feelings, self harm, substance misuse, trauma, risk and the altered perceptions with psychosis.  Some people might think this is really depressing stuff. The thing that keeps me going and that gets me out of bed in the morning is knowing that I have an opportunity to attempt to make a difference to someone else's life every single day. Mental health care is life saving work and whilst I'd love to come with a 100% guarantee (I'm humble enough to know I don't) it's my privilege to be in the position of being to introduce to people to the hope of possibility. Being a mental health nurse in 2019 has it's challenges but as a professional group we have come a long way from our custodial asylum attendant forebears to being leaders in recovery focused care."