The 2023 Awards Event for Long Service was an unforgettable evening, the inspiring celebration hosted by NHS Dumfries and Galloway with awards provided by The Queen's Nursing Institute Scotland (QNIS). The event took place yesterday, on Wednesday 6th September, at The Usual Place on Academy Street. The occasion brought together friends, family, and distinguished guests to praise the exceptional commitment and dedication of 46 Community Nurses and Midwives, each with an impressive 21 years or more of professional service.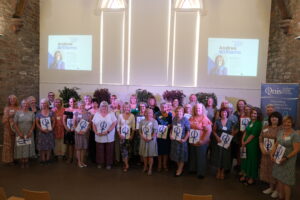 With the awardees combined number of years served amounting to a staggering 1,249 years, this event commemorated the invaluable contributions of healthcare professionals who have devoted their careers to the wellbeing of their communities. 
Throughout the evening, we were privileged to hear from esteemed speakers who shared their insights and appreciation: 
Anne Allison, Lead Nurse – Community Health & Social Care of Dumfries and Galloway, opened the event with a warm welcome and a heartfelt introductory speech that set the tone for the evening's festivities.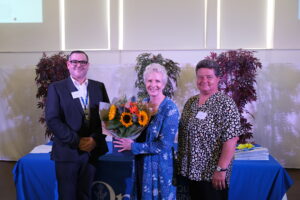 Clare Cable, Chief Executive of QNIS, delivered a moving address that underscored the importance of long-standing commitment in healthcare and celebrated the awardees' profound impact in the community nursing and midwifery profession.

Mark Kelly, Interim Director of Nursing and Midwifery in Dumfries and Galloway, concluded the evening by expressing deep gratitude to all attendees and highlighting the significance of the event in recognising dedicated staff and their commitment to client care.
It was warming to have the presence of eleven Dumfries and Galloway Queen's Nurses; with at least one community nurse of midwife each year having received the title since its reintroduction in 2017. Their attendance highlighted the continuing commitment to health improvement that defines QNIS and the nursing profession.
 The venue was decorated with floral arrangements in classic QNIS colours, cornflower blue, teal, and raspberry, creating an atmosphere of celebration. Attendees were treated to a selection of canapés and beverages during proceedings. The Dumfries and Galloway 2023 Awards Event for Long Service was a resounding success, resonating with the collective appreciation for the incredible contributions of these community nurses and midwifes. As we reflect on this remarkable evening, we extend our congratulations to the 46 awardees and all those who accompanied them, for making this event a memorable acknowledgement of their outstanding service.