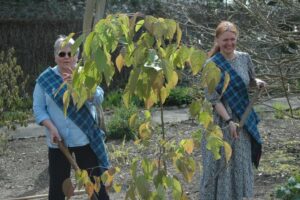 We were delighted to hear that a group of Queen's Nurses from Dumfries and Galloway got together to plant a beautiful Japanese Pearl tree at Logan Botanical Gardens, Port Logan. The tree was planted in memory of our late patron, Queen Elizabeth II.
Anyone wishing to visit the tree can find out more about the garden here: Logan Botanic Garden | Visit | Royal Botanic Garden Edinburgh (rbge.org.uk) 
For anyone looking to visit other gardens as the weather starts to improve, Scotland's Gardens Scheme has many beautiful gardens to choose from. QNIS is one of four beneficiaries of the scheme, receiving a share of the funds raised by the scheme each year. Garden details and directions can be found by visiting Scotlands Gardens Scheme – Home or in the annual guidebook.