A report setting out the future of the profession of nursing has been published by the Scottish Government.
The Nursing 2030 Vision contains the strategy of Scotland's chief nursing officer (CNO) Professor Fiona McQueen.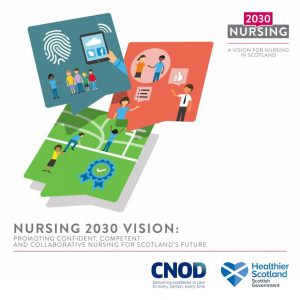 It looks at what is currently being done well and what needs to be done differently to deal with future demands on public services and issues such as an ageing population and workforce.
A Scotland-wide engagement exercise involving more than 3,000 nurses, student nurses and other stakeholders including members of the public, was used to help shape the strategy.
Professor McQueen said that feedback showed nurses and student nurses "want to see nursing develop further as a dynamic profession in all care settings…".
She added: "We want to promote nursing as a rewarding and respected career choice and address issues raised around gender imbalance, career pathways and promoting a range of roles including primary care and the care home sector."
The Scottish Government said three key themes emerged from the engagement process:
Personalising care
Preparing nurses for future needs and roles
Supporting nurses 
The publication of the document will be followed by a detailed action plan describing how the Scottish Government intends to make the ideas in the Vision a reality over the short, medium and long terms.
The Nursing 2030 Vision document is available here.