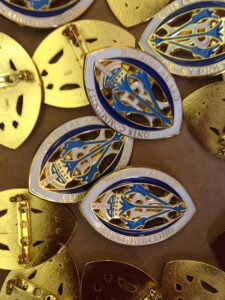 Some of the longest-serving general practice nurses in NHS Greater Glasgow and Clyde (NHSGGC) have received an award in recognition of the dedication and "tremendous contribution" they bring to their roles.
A total of 27 nurses across the health board area received the Community Nursing Award for Long Service during an online event on September 15.
QNIS presents the award to nurses who have been working in the community for more than 21 years.
The total years of practice nursing experience brought by the group is 701 years, with seven of the nurses having more than 30 years of service to their communities.
The virtual event, hosted online by NHSGGC, saw Dr Kerri Neylon, the health board's deputy medical director for primary care, address the group before the awards presentation.
She said: "This is a really important opportunity to recognise the valuable role that our general practice nurses have within our whole system.
"Many of you have hugely advanced clinical skills and your role is an essential part of the team. At times, you are the glue that keeps the practice team together, but also the oil that keeps things going smoothly – being responsive to the needs within the team and to our patients.
"For those here today, you are thoroughly deserving of this recognition as you have given so much to your patients and your practice teams, and the wider GGC community. I don't think we can adequately express how thankful we are to you for everything that you do."
Lorna Kelly, interim director of primary care at NHSGGC, then presented the awards.
She said: "It is really important to mark the tremendous contribution you have all made and continue to make to families, often across several generations, and to practices.
"I have been really struck by the range of experience in different roles you have all had and also how many of you go the extra mile and how active you are in your local communities or within the practices.
"These are really valuable things at any time but I think in particular with the challenges over the last 18 months, this is so important to mark these contributions."
Sarah Doyle, deputy nurse director at QNIS, also spoke at the event. She added: "We make these awards to community nurses and midwives because we think it is vital to pause, to acknowledge and to celebrate the contribution you all make.
"I know you have seen a lot of changes during the years you have been working in the community. It won't always have been easy – but when things were tough you kept going.
"It is a real honour to be here with all this expertise in this virtual room."
The QNIS Community Nursing Award for Long Service is available to any registered nurse in Scotland who has worked for more than 21 years in the community.