Earlier this year, QNIS commissioned Chance2Change, a community peer support group in Drumchapel, to undertake photojournalism work exploring health inequalities in partnership with Inclusive Images and Clydesider. The project was funded by the Burdett Trust for Nursing and QNIS. 
We are delighted that the results of this collaboration are now on display in an exhibition hosted by the University of Glasgow's School of Health and Wellbeing in Byres Community Hub during the Scottish Mental Health Arts Festival. 
The thought-provoking images on display were produced by members using their own lived experience of themes such as homelessness, neglect, and substance misuse.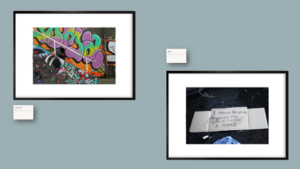 The topics included grief, trauma, early deprivation and neglect, homelessness, addiction, poverty, and physical ill health. The works will be displayed alongside a collaborative needle felting piece 'Drumchapel in the Spring', which Chance2Change members were also involved in as part of a Drumchapel LIFE project with Lin-Pin Craft. 
Chance2Change will also be screening some of their films on 19 October in the Clarice Pears building where Byres Community Hub is located. 
The exhibition is open from Wednesday 4 – Sunday 22 October 2023.