Hundreds of health visitors have gathered for a conference celebrating the contribution they make to the future of children and families across Scotland.
The event – Taking Care of Our Future – was held in Glasgow on Tuesday August 22 and heard from a range of speakers including Cabinet Secretary for Health and Sport Shona Robison and Chief Nursing Officer, Professor Fiona McQueen.
It brought together health visitors from across the country, with representatives from all health board areas attending.
A series of workshops was held covering topics such as the implementation of the universal pathway, infant nutrition and speech and language development.
The conference, which took place during national Health Visitor week, was jointly hosted by the Queen's Nursing Institute Scotland (QNIS), the Scottish Government, the Institute of Health Visiting (iHV), and NHS Education for Scotland (NES).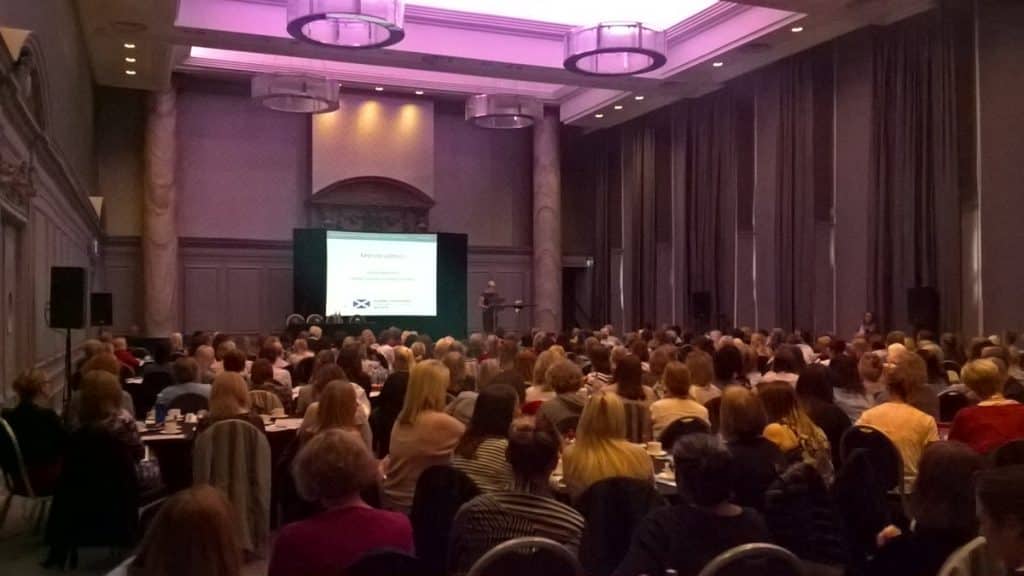 Other speakers included Professor Dame Sarah Cowley, Emeritus Professor of Community Practice Development at King's College London and Professor Sir Harry Burns – former Chief Medical Officer for Scotland.
Bob Fraser, Health Advisor at the Scottish Government's National GIRFEC team (Getting It Right for Every Child) also addressed the conference.
Clare Cable, QNIS Chief Executive and Nurse Director, chaired the event, said: "At this important time for health visiting in Scotland, we are pleased to have had such a positive response from those at the forefront of the service.
"The conference places were filled within days of the event going live on our website showing the enthusiasm and commitment from health visitors wanting to get together to share best practice and discuss the way forward for health visiting."
In October 2015 the Scottish Government published a new Universal Health Visiting Pathway which sets out the core home visiting programme to be offered to all families by health visitors.
The programme aims to provide 11 home visits to all families – eight within the first year of life and three child health reviews between 13 months and four to five years old.
Health Secretary Shona Robison said: "I'm really pleased to be here in Glasgow to celebrate the unique service that health visitors provide every day – they have a vital role in the health and wellbeing of children and families in our communities and they are at the core of delivering the enhanced universal pathway.
"We are absolutely committed to ensuring that children and families across Scotland get access to the right support in the child's earliest years. We have made significant investment to enable workforce expansion and additional training to increase the number of health visitors.
"Families will have enhanced access to health visitors through the core home visiting programme, particularly during the first year of a child's life."
Chief Nursing Officer Professor Fiona McQueen said: "I'm absolutely delighted to be giving the opening address at the health visiting conference, which celebrates their crucial role for the families of Scotland, ensuring families get the right support, from the right person in their child's earliest years.
"We have worked in partnership with health visitors and their leaders to design a refocused role and care pathway fit for the future and to ensure that they have the education and training to prepare them for their role. The conference is a perfect opportunity for health visitors to share experiences, learning and successes with colleagues."
Dr Cheryll Adams CBE, Executive Director, Institute of Health Visiting, said: "'This Institute of Health Visiting, a UK-wide charity, is delighted to be supporting this conference.
"Scotland is taking bold steps to make Scotland the best country in the world to grow up in and we know that the health visiting profession requires the type of support this event will offer them to play their part in making this happen."
Colette Ferguson, Director of Nursing, Midwifery and Allied Health Professions, said: "Health visitors in Scotland have a key role in promoting the health and wellbeing of children and their families.
"NES is pleased to be supporting this event and the education and development of Scotland's Health Visitors and teams. In support of Scottish Government's aspiration to make Scotland the best place for children to grow up, we facilitated a series of workshops across the country to help health visitors meet the requirement of the Universal Pathway and new role for health visitors."
Resources from the conference will be made available on the QNIS website in due course.