It was a lonely, demanding and unrelenting career. Queen's Nurses were effectively married to the job.
Like female civil servants and teachers, they were expected to give up their posts when marrying and starting their own families. This rule was only relaxed from the 1940s amid nurse shortages.
The Institute took its welfare role seriously from the outset. Christian Guthrie Wright bequeathed her cottage in Colinton as a home for Queen's Nurses to rest and recuperate. It also established a contributory pension scheme to provide for nurses in retirement.
Pay was adequate, if not brilliant. Private nursing was more lucrative, hospital nurses didn't have on-call commitments and working abroad also had its attractions.
It wasn't a career for show-offs. Modesty was a natural accompaniment to the confidentiality required for their work. A cloak of anonymity extended to their names – usually just "Miss". Only rarely do we learn their forenames.
In remote areas they carried out triple duties – as midwife, district nurse and health visitor. They provided care literally from cradle to the grave – from the moment of birth to laying out the body for burial.
Training for health visiting was introduced in the 1920s. By the end of that decade, major efforts were put into improving public health. Tuberculosis (TB) was still a scourge, particularly in the Highlands and Islands.
A joint campaign with the Red Cross and the National Association for the Prevention of Tuberculosis involved superintendent nurses from the Institute speaking at schools, village halls and community groups.
Ironically, the disease remained a major killer of young TB nursing students arriving in cities from the Highlands with little natural resistance to the disease.
This ended with the arrival of the BCG vaccine and the cure for tuberculosis using three drugs for the outset developed by John Crofton's group in Edinburgh which became the worldwide gold standard treatment.
Ida Sowler was one of very few Queen's Nurses to leave a memoir. 
Against the wishes of her parents, she pursued her ambition to be a nurse. Her training at the Deaconess Hospital was interrupted by diphtheria she contracted from a child patient.
In 1924, she completed ten months at Castle Terrace in district nursing, midwifery and health visiting. After serving at mining districts in Lochgelly and Douglas Water she was appointed as district nurse for Gullane and Dirleton by a newly established nursing association chaired by Mona Chalmers Watson.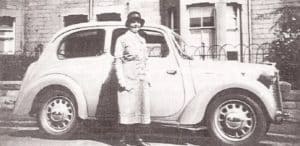 She overcame initial reservations about Gullane. The car is an Austin 8 donated by a patient whose wife had drowned after accidently driving into North Berwick harbour. It enabled her to see many more patients. Over 30 years Ida and her companion Betty proved a huge community asset for Gullane. They revitalised the Guides and Brownies, put on Christmas pantomimes and adopted two children, one of whom became a nurse.
You can read her full memoir here.  With thanks to The Gullane Local History Society and the Dirleton Local History Group for permission to share this.