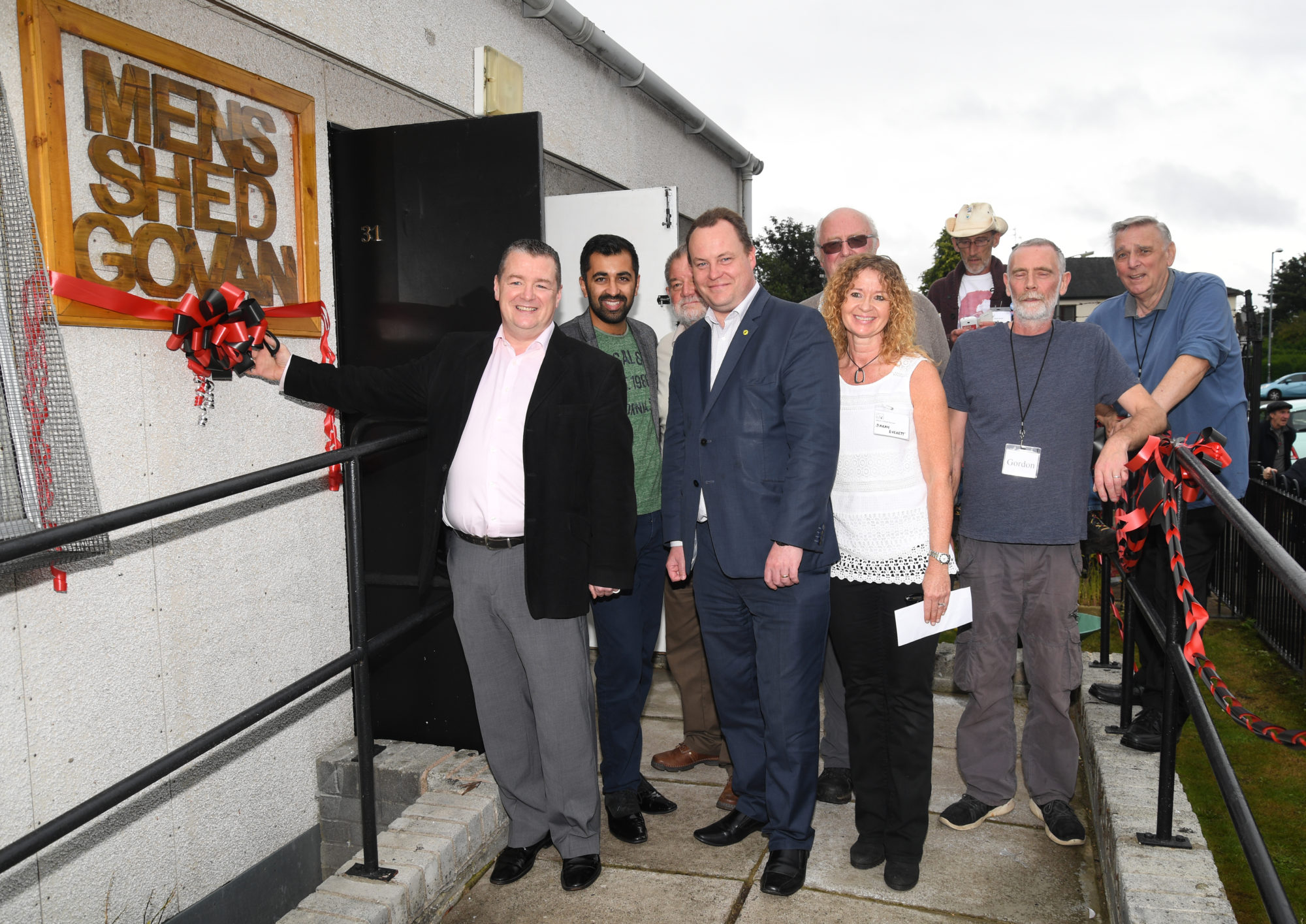 With support from Queen's Nursing Institute Scotland (QNIS), a men's shed has been officially opened in the Govan area of Glasgow. The opening ceremony on September 1st was attended by local MSP Humza Yousaf and MP Chris Stephens, while Councilor Ricky Bell cut the ribbon.
The Govan site is a former children's nursery, which had been empty and unused for years, and men shed founding members have spent months refurbishing the building and gardens.
After getting the keys in December 2017, they set about overhauling the premises to create a dedicated, friendly and welcoming meeting place where local men can come together to share and learn skills, relax and make friends.
The project was started after Practice Nurse Sarah Everett, based at Govan Health Centre, saw a real need in the community to create a group for men who may be feeling socially isolated or lonely.
The idea was borne out of men telling the nurse that they felt they had nothing to do, so she gathered a core group expressing a desire to establish the shed.
Sarah asked for help from the local community development officer from Glasgow City Council, and secured funding for the idea through an application to QNIS through its Catalysts for Change programme.
The funding, available to community-based nurses to lead development projects that address health inequalities, was able to pay for the rent and running costs of the building on Arngask Road, as well as for the materials and tools needed for the refurbishment.
Sarah said: "I have worked as a practice nurse in Govan for 14 years and I have wanted to be able to signpost men to a group like this for a while.
"There are very successful groups for women addressing the same issues, and the feedback from them has always been hugely positive. However, there has never been anything similar for men, so I wanted to address that unmet need.
"I could never have predicted the transformation the men have achieved – it has been truly incredible. They have put countless hours of work into painting, decorating, gardening, cleaning. They've turned their hand to every task required.
"But it's been the infectious enthusiasm they've all brought to the work that has been a real joy to watch. They're a resourceful bunch of guys and no challenge has been insurmountable. They should be so proud of what they have achieved."
The men's refurbishment of the derelict building means they now have a woodwork room, a model-making/arts and crafts room, a computer room, a quiet reading space, a kitchen, a committee room and a main hall for members to gather to play darts, table football, dominoes or listen to music together.
The facility will also have a dedicated health care space containing information on how to improve health and wellbeing, and prevent some of the common chronic illnesses that men experience or at risk of developing. The nurse will offer monthly health checks to review blood pressure, weight and offer advice on any long-term conditions.
The shed will be open three days a week, and membership is free.
Since the group took over the space, they have received many donations from local businesses and neighbours, including plants and pots, a barbeque, sofas, tables, chairs and garden equipment. They are also delighted to have just obtained sponsorship for a year from recycling business EMR.
The men's shed, which is now a registered charity, held an open day on Saturday September 1st for everyone in the community to tour the building and gardens.
Justice Secretary Humza Yousaf, who is the local MSP, said: "I have been keeping in touch with the group for a number of months now and I am so impressed with how much they have managed to achieve in such a short period of time. Sarah is a big part of that, a force of to be reckoned with. She has been fantastic.
"What has impressed me the most is just how many groups have collaborated to make this a success. It is such a simple idea that will create transformative change in members' lives."
Councillor Ricky Bell added: "It's a win-win for the community and Govan's men shed. The building was becoming an eyesore. Now there's a thriving lively organisation and a building that's completely refurbished.
"The message from the open day is come and join the men's shed. There is a group here you can be part of. The guys are hugely welcoming to new members, so bring them in and get them involved in what's going on."
The property at Arngask Road is owned by City Property Glasgow (Investments) LLP, one of Glasgow City Council's arm's length external organisations. The LLP's Community Working Group worked with the project in 2017 to secure a concessionary lease of the building, which had been vacant for a number of years
The Community Liaison Officer continues to provide the organisation with property management support and advice.