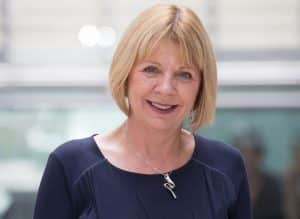 An experienced nurse and researcher will deliver a professorial lecture in Aberdeen this month.
Dr Catriona Kennedy, recently appointed QNIS Professor of Community Nursing at Robert Gordon University (RGU), will deliver the public lecture on Wednesday 23 November at the university's Sir Ian Wood Building.
This new role has been developed in association with the Queen's Nursing Institute Scotland (QNIS).
The lecture, which is titled 'Anticipatory Care: a Fundamental Skill in Nursing?', will see Professor Kennedy draw on research which illustrates both the meaning and impact of anticipatory care of patients and family carers.
Anticipatory care is the ability to look ahead and forward plan care. Professor Kennedy will suggest that the ability to anticipate the care needs of patients and families is a hallmark of professional practice and will attempt to give a glimpse of how we can prepare future nurses and midwives.
Professor Kennedy joined the university's School of Nursing and Midwifery earlier this year, with a remit to build the university's research capacity and capability in nursing and midwifery.
She said: "I am delighted to join the School of Nursing and Midwifery at RGU and contribute to its growth and development in research.
"The affiliation with the Queen's Nursing Institute Scotland is very special, as they supported my move from clinical practice to start my academic career in 1991.
"Our focus is on applied research, which can inform person, family and community-focussed health and wellbeing, as well as the organisation and delivery of health and social care services.
"I hope my professorial lecture will stimulate discussion and illuminate hitherto covert understandings of how nurses anticipate care and support needs, in partnership with the patients and families they work with."
Professor Kennedy worked as a district nurse for a number of years, before moving into education at Queen Margaret University, where she took up post as the Queen's Nursing Institute Scotland Advanced Practitioner and Lecturer in District Nursing.
She then went on to work with Marie Curie Cancer Care, Edinburgh's Napier University and the University of Limerick. Since completing her PhD in 2000, she has conducted wide-spread nursing practice and community focussed research.
Her new post at RGU has been partially funded by the Queen's Nursing Institute Scotland.
Professor Ian Murray, Head of School for Nursing and Midwifery, said: "Professor Kennedy joined the university earlier this year with a hugely experienced and well-respected background.
"We were delighted to welcome her to our dedicated team and believe that she can play an important role in developing the school's research agenda and improving the university's capabilities going forward."
Clare Cable, Chief Executive and Nurse Director of QNIS, said: "This collaboration supports the mission of QNIS – promoting excellence in community nursing to improve the health and wellbeing of the people of Scotland.
"Professor Kennedy has longstanding connections with QNIS and we are delighted to be working with her and the team at RGU to develop community nursing research capacity."
Professor Kennedy's lecture will begin at 6pm at the Sir Ian Wood Building, located at RGU's Garthdee campus and will be followed by an opportunity for questions. The evening will conclude with light refreshments.
To book a place email Anna Duthie via a.duthie3@rgu.ac.uk or call 01224 262210.