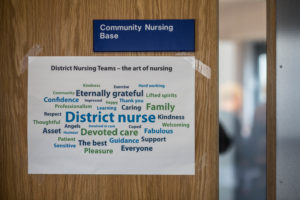 Almost £7 million is being invested in the education and training of general practice nurses and district nurses over three years, the Health Secretary has announced.
The £6.9m figure was included in the Scottish Government's new primary care workforce plan which places an emphasis on the importance of highly skilled multi-disciplinary teams.
Shona Robison said the plan was a further step on the long-term journey to reform primary care in Scotland to "better serve the needs of our people, promote prevention and self-management, and put services on a sustainable footing".
The detail was contained in the National Health and Social Care Workforce Plan Part 3 – improving workforce planning for primary care in Scotland, published today. The workforce plan parts one and two were published last year.
It also outlines plans for an extra 800 GPs to be recruited over the next ten years as well as an annual investment of £35 million by 2022 for an extra 800 mental health workers across A&E departments, GP practices, police stations and prisons.
Ms Robison said the latest funding will mean more patients are treated in the community and would "ensure the sustainability of a multi-disciplinary team approach".
She also recognised the importance of the District Nursing workforce in shifting the balance of care from hospitals to community settings, and committed to working alongside partners, including RCN Scotland, to "understand the requirements for sustaining and expanding this workforce."
The report states: "The role of the nursing and midwifery workforce in supporting and driving the reform of primary care in Scotland is vital. Through significant investment in expanding the workforce and enhanced support for education and training, we will support integrated community nursing teams address the needs of people across a range of community settings.
"We are clear that shifting the balance of care will require growth and additional investment in district nurses as key members of integrated community nursing teams. The Scottish Government will lead work alongside partners to understand the on-going requirements and investment necessary to deliver the required expansion of this workforce. There is a need for robust evidence and reliable data on supply needs to support both current delivery and emerging models of care to ensure effective targeting of investment."
The full report is available to read here http://www.gov.scot/Publications/2018/04/3662/0