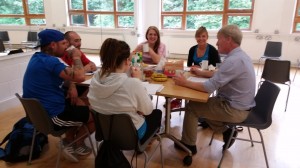 Project
This project is now complete, and the final report can be downloaded here. For an introduction to the project from the preliminary stages, see below.
Moving on is an evaluation of a Community Psychiatric Nurse-led, public and social partnering practice-based project, aimed at helping people make the transition from homelessness care services to local community networks.
It brings together the Edinburgh Access Practice (NHS Lothian) with three established community services – Kirk O'Field Community Building Steering Group, Co-Co Counselling in Communities and Street Fit Scotland.
One day a week for six months the CPN who is leading the project brings people together. The workshop involves a meal together and then health & wellbeing information, with receptiveness, I would suggest on evidence so far, clearly being helped by the preceding exercise and fitness, alongside the supportive/companionable context of the whole 3-4 hours. The QNIS money is paying for workshop space and meals.
Attached is a picture from one of the workshops I am doing in relation to "Move-On" project, although not the best picture it does demonstrate part of my approach (Goal Corrected Empathic Attunement GCEA), broadly speaking the theory is about making a connection of integrity with people. The group in the picture are some of the participants from Street Fit Scotland.