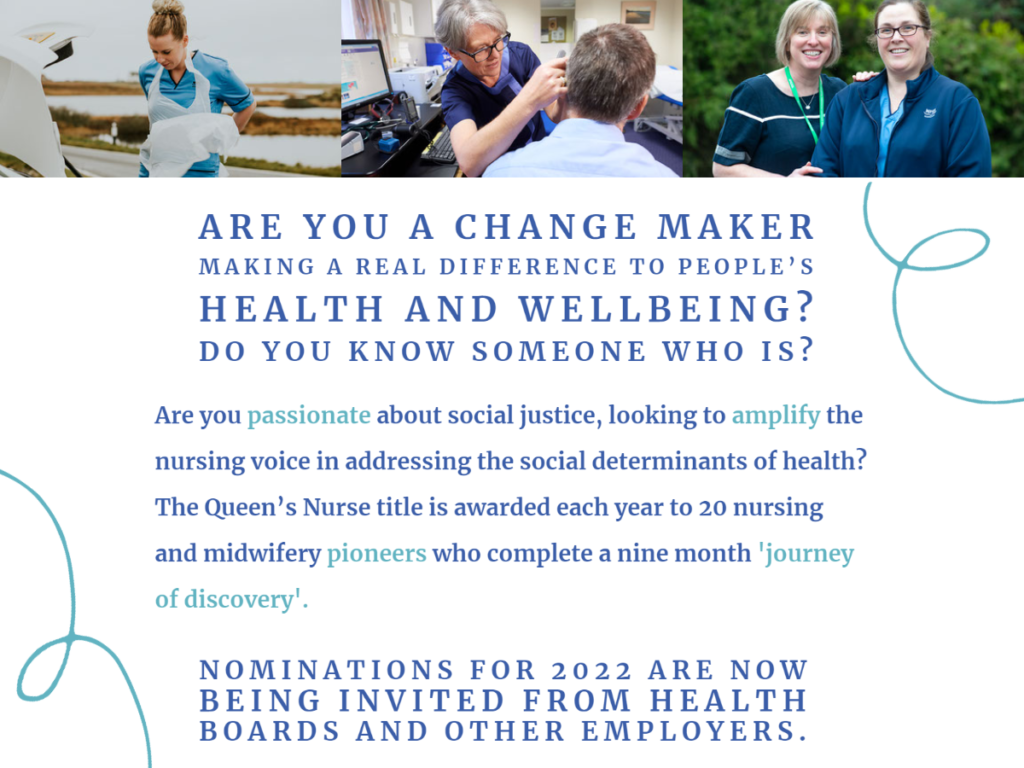 We welcome nominations for any community nurse or midwife who is identified by their employer as someone who would benefit from this nine month transformational development opportunity. We are working to profile nursing's role in social justice, and would particularly welcome applications from those working in areas of deprivation or in roles such as care home liaison, homeless outreach, addictions, working with children with complex needs, sexual health, and criminal justice nursing. QNIS is also committed to taking seriously the messages from the Black Lives Matter campaign by attracting nominations for nurses and midwives from black and minority ethnic groups. Men are also underrepresented amongst the current community of Queen's Nurses. In addition, we are continuing our commitment to the Nursing Now Challenge and having seen the benefits, we are inviting nominations from young nurse leaders who are new to clinical leadership roles.
If you meet any of the above criteria do please have a conversation with your line manager about nomination.
To read more about the Queen's Nurse title click here, or to read the profiles of the 2017-2020 Queen's Nurse cohorts click here.
We have requested names of those nominated from Executive Nurse Directors by email by Monday 4th October 2021.  Once candidates have been nominated by their employer, we ask for a written application, with an organisational support form to be submitted by 15th November 2021. Please email Catriona McClelland with any queries you may have.
We recognise that this might feel a bit daunting, so a number of previous candidates have agreed to share their applications to help and inspire you, they can be found below:
Whilst names have been removed, we have not been able to fully disguise the identities of those who wrote them. Please treat the information with sensitivity.
If you'd like to know more about the programme and the difference it has made, the current candidates and those who are already Queen's Nurses have said they are happy to be contacted. You can find their email addresses here.