The QNIS team were at the Edinburgh Holyrood Hotel last week to host Relational care, poverty, adversity, and multimorbidity: Evaluating a workshop programme for community nurses and midwives in primary care. The event was an opportunity to reflect on the impact of QNIS' Complexity and Adversity Network.
We were delighted to be joined by a number of invited guests, including academics, health professionals, and Scottish Government representatives. The event started with a comprehensive overview of the programme, which had explored topics including homelessness, grief, trauma, early deprivation and neglect, addiction, poverty, and physical ill health. This was followed by a presentation of a robust evaluation undertaken by Celeste Foster and Emma Tague at the University of Salford, with research consultancy provided by Gary Winship at University of Nottingham. Last, attendees discussed the potential for further development of the work. 
The online workshops were delivered over ten months, for community nurses and midwives in primary care working in some of the least affluent areas in Scotland. We know that populations in these areas have much greater rates of adverse childhood experiences. This matters for later relationships, including relationships with health and social care providers. Recognising the impact of poverty, adversity and multimorbidity means adapting clinical practice, and adapting the organisation of services, to account for the profound challenges people face when trying to access healthcare.
Building on the work of Scotland's Deep End GPs, the workshops focused on the importance of the relationship between the person receiving care and the person providing it. By drawing on contemporary psychodynamic ideas, the workshops aimed to deepen participants' abilities to understand how this relationship works, make sense of all the things that influence it, figure out how to respond in ways that strengthen it, and promote therapeutic optimism. The event also included the first ever showing of photography commissioned by QNIS and funded by the Burdett Trust for Nursing, specifically for this health inequalities project. The photographs were produced by members of the Drumchapel peer support group Chance2Change, in partnership with Inclusive Images and Clydesider Creative.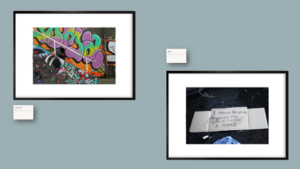 The final version of the evaluation report will be available soon.  
Dr Sarah Doyle, QNIS Deputy Nurse Director, said:
In Scotland's least affluent areas, the adversity people face and the complexity of health needs that must be addressed make relational care both more important and more difficult. Relationships are the bedrock of health and social care provision, but the work of relating is highly skilled, especially when services, professionals, and local populations are under increasing pressure. This programme offered a space for community nurses and midwives to reconnect and reflect.