Staff at QNIS are absolutely delighted after a successful first annual awards dinner on Friday December 1 in which guest of honour Prue Leith presented 26 awards in total – 20 to the new Queen's Nurses and six Fellowships.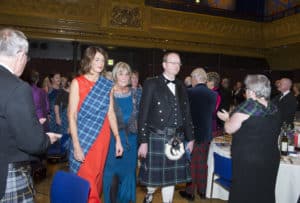 Celebrations got under way with a procession into the hall at The Hub on Edinburgh's Royal Mile. The new Queen's Nurses, each wearing a specially commissioned Harris Tweed sash, entered the room accompanied by a retired Queen's Nurse and led by a piper piping Highland Cathedral.
It was a moment symbolising two generations of Queen's Nurses united by their commitment to compassionate nursing care for the people of Scotland.
Clare Cable, Chief Executive and Nurse Director of QNIS, who hosted the evening's proceedings, introduced the group to the room and offered a warm welcome to all guests.
Following this, a magnificent animation, detailing the history of Queen's Nursing in Scotland, was given its first public showing.
Each Queen's Nurse received a beautifully hand written certificate scribed by master calligrapher David Lang and signed personally by QNIS Patron Her Majesty the Queen. All those receiving awards were given specially commissioned silver badges, designed, crafted and hand enamelled by Ortak in Orkney, and assayed in Edinburgh.
After all 20 Queen's Nurses took to the stage to be handed their award, it was the turn of the Fellows.
The award of QNIS Fellowship aims to create a community of support for the Institute which will provide expert advice, on practice, education, research, policy and integrated care. It is hoped that our new Fellows will act as ambassadors for our work, as well as, benefiting from a renewed relationship with us.
First to receive her Fellowship award was Dr Heather Bain, Senior Lecturer at Robert Gordon University. An expert in community nursing education, the QNIS Nominations Committee were struck by her commitment to the Institute – including her consistent promotion to students.
QNIS also wanted to recognise her contribution to the development of community nursing advanced practice education in Scotland, the importance of her contribution to research through her PhD studies and her UK leadership of the Association of District Nurse Educators.
Next to receive his was Derek T Barron, director of care at Erskine, for his constant promotion of nursing and his commitment to QNIS over the years, including his chairing of the early work on integration and his enthusiasm for the planning and development of the new Queen's Nurse Programme. He was also recognised for his contribution to the development of community mental health nursing in Scotland, through the range of roles he has held up to the present day, championing high quality residential care in his current role with Erskine.
The final Fellowship award was given to Dr Caroline Dickson, senior lecturer at Queen Margaret University, who has supported QNIS over many years as a member of our Education and Practice Development Committee, in reviewing practice learning environments for us, and her leadership of a number of high quality practice development projects.
Her contribution to the development of person centred community nursing education in Scotland, enhancing the evidence base for District Nursing through her PhD and her UK leadership of the RCN District Nursing Forum, was also recognised.
A further award of Associate Fellow was presented to Rhona Hotchkiss, Governor at HMP Greenock, for her commitment to developing leadership across the public sector. The Nominations Committee wanted to recognise how she has demonstrated extraordinary courage and determination in addressing inequalities through her visionary work within the prison service. The new Queen's Nurses have benefited from her wisdom on managing risk.
Finally, two Honorary Fellowships were presented to retired Queen's Nurses for their outstanding contribution to QNIS.
Mrs Angela MacDonald was recognised for her extraordinary commitment to the wellbeing of the retired Queen's Nurses of the Highlands. Her enthusiasm for enabling those who have committed their working lives to community nursing to stay connected within the fellowship of nursing is just amazing. The Institute wishes to pay tribute to a lifetime caring for others, recognising the hours she continues to spend and the miles she covers and the many, many conversations she has which bring such joy to others.
Mrs Catherine Morrison was also presented with the same award. She retired from a long and full career as a Queen's District Nurse and went on to complete her PhD on the history of Queen's Nursing in the Outer Hebrides. The Nominations Committee wanted to recognise this and her ongoing work, enabling a wider audience to hear the stories of the Hebridean heroines by going on to turn her thesis into a wonderful book, which is now sold in bookshops and gift shops across Scotland –  including on the Calmac ferry.
The formal part of the evening drew to a close with a vote of thanks from Professor Sir Lewis Ritchie – chair of the QNIS Board of Trustees.
Guests were then treated to a performance by Scotland's Farmers and Farmers' Wives Choir, of which Queen's Nurse Kelvin Frew is a member.
The choir sung three songs, with the new Queen's Nurses and retired Queen's Nurses joining them for a rendition of Bridge Over Troubled Water.
A ceilidh rounded off the momentous evening – with guests dancing until carriages arrived to return everyone home at midnight.
All photographs by Lesley Martin Photography