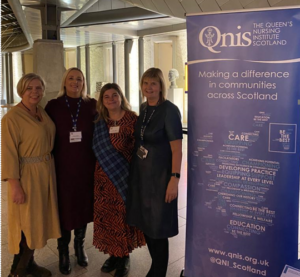 QNIS attended NCD Alliance Scotland's first ever Parliamentary reception on Tuesday 31 October. It was an excellent opportunity to raise awareness of the work community nurses and midwives are doing across Scotland to help reduce health inequalities and prevent non-communicable diseases (NCDs). 

We were delighted to be joined at the QNIS stand by QNIS Trustee Jan Beattie, Dana Crawford, a Health Visiting Team Manager from NHS Lothian, and Rhona Martin, Lead Specialist Community Stroke Nurse at Chest, Heart and Stroke Scotland. Dana and Rhona were on the Queen's Nurse Development Programme this year and were able to talk to MSPs and other guests about their work and their experience of the programme. There was lots of interest in our stand, including from the Minister for Public Health and Women's Health. 
QNIS is a member of NCD Alliance Scotland which is a coalition of health organisations who are working together to reduce the health burden of NCDs. The reception was an opportunity to highlight a recent report, the Cross-Party Inquiry into Non-Communicable Disease Prevention and Health Harming Products. NCD Alliance Scotland facilitated this inquiry into NCD prevention with involvement from several MSPs from across the four main Parliamentary parties. The aim of the inquiry was to examine the evidence on the drivers of the consumption of health harming products and the potential measures that could be taken by the Scottish Parliament and Government to address them. The report illustrates the significant impact of NCDs in our most deprived areas and calls for more action across health harming products. 
You can read the report here.