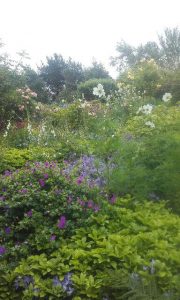 Jess Davidson, one of the 20 Queen's Nurse candidates, went along to a garden opening in Edinburgh to help with the hosting of a Scotland's Gardens event.
Scotland's Gardens and QNIS have a long and proud history, with the two charities continuting to move forward with the shared aim of enabling Scotland's communities to flourish.
Established in 1889, the original work of QNIS was training Scotland's Queen's Nurses and in 1931, Scotland's Gardens was created to help pay for their training, salaries, and pensions.
It has been generously supported by garden owners and visitors ever since.
As training of nurses moved to colleges, and salaries and pensions moved to the NHS, the Institute's charitable objectives changed, while the principles remained the same.
The QNIS purpose is to promote excellence in community nursing across Scotland, to improve the health and wellbeing of the people of Scotland, and to ensure that nurses who work in Scotland's communities are the very best they can be.
As part of this aim, 2017 will see the reintroduction of the Queen's Nurse title to Scotland for the first time in 50 years.
The reintroduced title will be awarded as a mark of excellence, with 20 successful candidates taking part in a nine month programme enhancing their skills and working on a development project.
Today, funding from Scotland's Gardens Scheme goes directly to the Queen's Nurse programme.
These new Queen's Nurses will follow in the footsteps of the previous generation, providing excellent care in a variety of community settings across the country.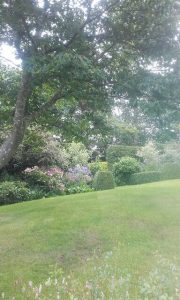 Jess, a police custody suite nurse, was keen to make a connection with a local Scotland's Garden event and therefore arranged to help at the opening of the garden at Riccarton Mains Farm. 
She said: "It was an absolutely beautiful garden and the owners were lovely people who had worked so hard, everything was in full bloom and it was just perfect.
"I was tasked with helping on the tea counter serving the teas and home baking. It was busy with people coming from far and near to see the stunning gardens.
"It was just a very jolly affair and I would definitely do it again in a heartbeat."