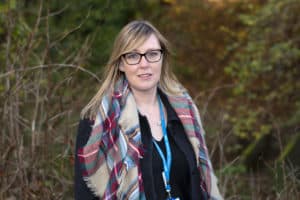 The positive impact of recovery from substances was the focus of a project to revamp the Action for Children garden in Stornoway.
Coleen Mcleod, NHS Western Isles Substance Misuse Community Mental Health Nurse, came up with the idea to transform the garden in Bayhead as part of her Queen's Nurse project.
The garden was officially opened by NHS Western Isles Chief Executive Gordon Jamieson on August 24, with one of the most talked about bands in the Highlands and Islands, Peat and Diesel, in attendance to entertain and support the project.
Coleen, who was awarded the Queen's Nurse title last year, is persistent in her approach to providing and enhancing recovery care across Lewis and Harris, and the garden revamp project was an impressive example of how she plans to establish a wider recovery programme in the Western Isles.
She chose to restore the Action for Children garden, which was in need of some attention, as the organisation supports young people who have been affected by parental substance misuse.
She explained: "At the heart of expert mental health nursing is building relationships, working with each individual to build up their self-esteem. Many local third sector groups which focus on different aspects of recovery have been involved in restoring the garden, and this focus has been extremely beneficial to them and their confidence; from getting involved in tidying up the garden areas in general, to painting and developing garden features."
She continued: "Scotland has the highest drug death rate in the EU with a 27 per cent increase from 2017 to 2018. The Western Isles is no different, with an ever-growing problem with substance misuse. The central purpose of the project was to focus these individuals on recovery, and I am delighted with how the individuals have engaged and gained confidence.
"Revamping their garden was a fitting first development and welcomed by the staff and service users. This has been the initial step in raising awareness of where we are locally, which has helped to generate interest amongst local services to work with us on future recovery projects and help develop a recognised recovery community."
Clare Cable, QNIS Chief Executive and Nurse Director, said: "Coleen's skill in bringing services together has been the central ingredient in bringing the garden to life.
"Coleen is only the second new Queen's Nurse on the Western Isles, following in the footsteps of generations of others who have made a difference to the lives of the people of the Outer Hebrides.
"By building positive relationships, hard work and extraordinary tenacity, she has enabled a community to achieve something really special by working collectively. And this is just the beginning, Coleen's mission to bring people together to help address Scotland's drug death rate by building a thriving recovery community is vital. We hope that the garden will remain a place where everyone who comes can find a little peace and joy."
Gordon Jamieson, NHS Western Isles Chief Executive, commended Coleen on the renovation of the garden, which will not only benefit those who attend Action for Children but has also had a positive impact on those individuals and groups involved in the renovation project.
"Coleen is an inspiration and a highly dedicated nurse, who is clearly committed to improving services," he said. "Coleen has a clear vision for how services should be developed. With a person-centred approach and a focus on recovery, she is an asset to her team and the wider NHS. I'd like to congratulate her on behalf of NHS Western Isles and I personally look forward to hearing more about the development of a wider recovery programme."
Read more about the project here