Ally Lister
The old matron's house at Fleming Cottage Hospital in Aberlour is buzzing with activity. In the kitchen, tea is on the boil and biscuits are being arranged on plates. In the waiting room, a group of ladies is busy putting paperwork in order: there is a laptop computer on the desk, and a long list of appointments to get through.
This is the Speyside Leg Club, a community-run initiative that brings specialist nursing care to people living with debilitating leg problems. "They come from far and wide, seeking help for skin problems, ulcers and swelling," says District Nurse Ally Lister. "When they're healed, people are encouraged to keep coming back to maintain their leg health."
In a practice room, a nurse and a Health Care Assistant (HCA) see patients one-by-one. They have a Doppler scanner to help them assess the condition of blood vessels; they treat where possible, and advise on the best way to manage a wide range of leg conditions.
It feels more like a social club than a clinic, as folk gather to chat. "You meet an awful lot of people here, and friendship groups build up," says Leg Club Secretary Anke Grant, who attended the first-ever meeting back in November 2005. "People feel at home. We've all got the same problems, and they know they can rely on us."
A highly-qualified District Nurse of long-standing in this part of Morayshire, Ally was the driving force behind the formation of this, Scotland's first Leg Club. She knew first-hand that there were lots of people living with conditions such as leg ulcers, varicose veins and lymphoedema, and wanted to do something to support them better. "These can be very painful conditions, and incredibly isolating," she says. "Wounds can be smelly and leak, and people are often too embarrassed to venture out. It really limits their quality of life."
The Leg Club's part-time treasurer, Betty Strathdee from Craigellachie, first came several years ago for help with an insect bite that had gone bad. It was cleared up within six weeks, but she kept coming back. "It's an extremely valuable service," she says. "I have never heard anybody say it's a waste of time."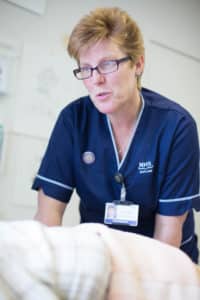 Tissue viability is Ally Lister's specialist interest and she is the area's lead in that, offering specialist advice and support to local clinicians. As Team Leader for community nursing for Keith and Fochabers, she is also responsible for developing the service to meet patients' needs.
The Community Nursing team – seven community Staff Nurses and two Health Care Assistants – covers a large patch stretching from Spey Bay to the borders of Aberdeenshire, an area inhabited by 10,500 people. "There's a lot of wound care, and palliative and terminal care," says Ally. "We are changing the way we work to enable us to do more."
Operating from health centres in Keith and Fochabers, they have recently started working as one large team. "We share a caseload and as we provide weekend cover, we all need to know a little about everybody," says Ally. "It's a change that makes sense."
The community nurses here can admit directly to the Turner Memorial Hospital in Keith, and have excellent working relationships with local GPs. They do home visits, seeing younger people with terminal illnesses and following accidents, post-operative patients, and older people who can't make it in to the surgery. "We have to work in different ways to meet all their needs," says Ally, who is the only nurse prescriber on the team. "We need to be imaginative and creative to rise to the challenges we face."
Supporting innovation in community nursing is the remit of the Queen's Nursing Institute Scotland, which has just appointed its first new Queen's Nurses in 50 years. Ally Lister is one of only 20 in the country to carry the title. "It is giving me permission to step into areas I had previously not been bold enough to go," she says. "What I am learning about as a Queen's Nurse will benefit the patients, my staff, and the NHS as a whole."
More determined than ever to transform her service, Ally has embarked on a project to up-skill seven health care assistants on the Pitgaveney community team. They provide care for patients across the whole of Moray, working alongside all the Community Nursing Teams.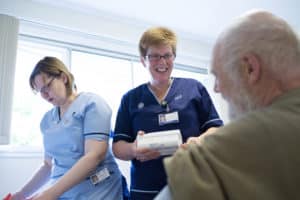 She has introduced a bespoke training programme for them in pressure care management. HCA Nikki Davidson said: "It has been fantastic. It makes us feel like part of the team as we can give the District Nurses proper information. I'm able to say what a patient's pressure ulcer is like now, and can even tell the grade."
Working in people's homes, the HCAs have the most day-to-day contact with patients and their families as they deal with personal care and basic needs. "In the old days, we weren't taken much notice of," says HCA Nicola Gibson. "The nurses listen now because we have the confidence to make ourselves heard, and we know the right terms to use. They are taking us much more seriously."
The HCAs credit Ally with devising an on-the-job training programme that they can complete in breaks and downtime while on the road. "She has been so supportive of us," says Nicola. "Now we want to do more."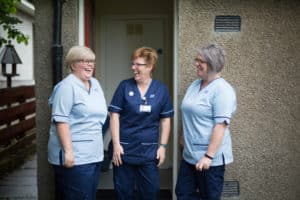 Ally is up for that, and for extending the training to the social work care teams that also visit vulnerable people at home. "Integration is essential," she says. "This is one way of helping it happen."
Ally is certain that getting in early, preventing complications and empowering patients to learn more about their condition and to self-manage is the way to go. The Speyside Leg Club is proof of that. Evidence shows that over 57% of leg ulcers managed there are completely healed after 12 months, and recurrence rates are among the lowest in the UK. The Leg Club has reduced hospital admission rates, and it is reckoned to have saved NHS Grampian more than £100,000 over the last five years alone.
Community nurse Patricia Johnstone and HCA Yvonne Coutts look forward to working there every week. "If someone's worried about their blood pressure, we'll check that and signpost appropriately as it saves people having to go elsewhere," says Patricia. "It's more relaxing here than in a doctor's waiting room as well, so blood pressures are usually on an even keel."
Should advice be required, the community nurses have a direct line to lymphoedema specialists in Elgin and Aberdeen, who are happy to be consulted. But most of their work is about holistic patient engagement. "It's amazing what you find out about the other things that are going on in people's lives," says Yvonne. "We offer a listening ear as well as treatment for legs."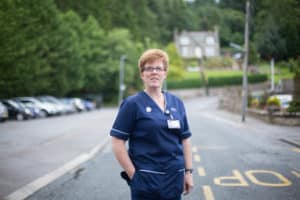 The Leg Club is a partnership between a volunteer community-led committee and the NHS, which provides the venue and the nursing staff, but none of the equipment. The Doppler scanner, for instance, was bought with money raised by the Leg Club's 400 members from tombolas, bake sales and toffee-making, and local businesses provide sponsorship.
"It's a powerful collaboration between communities, patients and clinicians that makes a real difference and shows the way ahead," says Ally. "Everyone should have access to a service like this. It's not rocket science, just what people deserve."
Written by Pennie Taylor
To learn more about other District Nurses who became Queen's Nurses, meet Delia, Barbara and Julie.