Ian Hall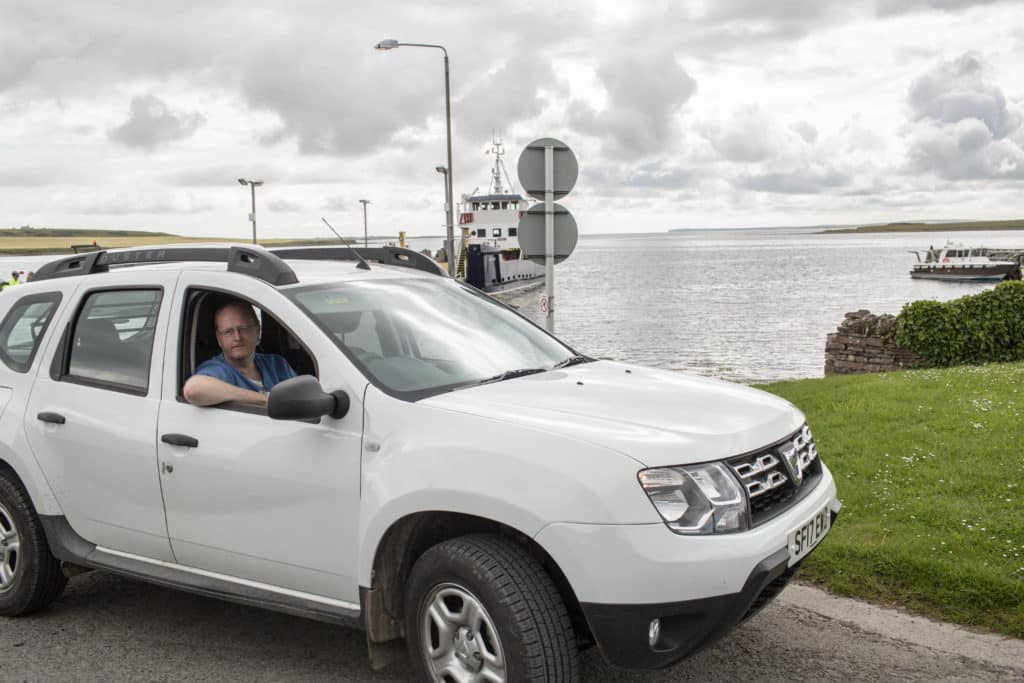 Ian Hall says he is drawn to extreme remote and rural nursing practice. His last big job saw him help establish the first-ever healthcare and community development project for nomadic Tuareg people, deep in the North Niger desert. These days, he looks after people living on the Orkney island of Shapinsay, and he reckons that there are similarities.
"Both communities are resourceful, existing very independently away from the throng," he says. "They know there are plusses and minuses to that, but it's their way of life."
An Advanced Nurse practitioner, able to turn his hand to emergencies, diagnosis, prescribing and treating, Ian is Shapinsay's resident health professional. Responsible for overseeing the health of the island's 300 residents, he knows all his neighbours well.
"It's a fantastic level of relationship which makes treating people easier, but it's a bit like living in a goldfish bowl," he says. "It's obvious who you're visiting, every move you make is noticed. You know everything about everyone, and have to keep it to yourself. A lot of the islanders are related to each other, so word spreads and trust builds."
It was Ian's commitment to developing community nursing in the most isolated places that won him a Queen's Nurse nomination. "I'm going to use it to promote the kind of nursing I do," he says. "Being a Queen's Nurse should give me more clout when it comes to making change happen."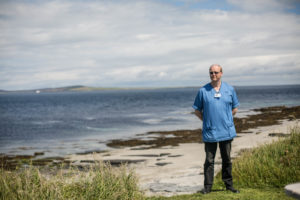 On Shapinsay, Ian works around the clock, usually two weeks on and two weeks off. When he is not on duty, another nurse practitioner fills in. "That makes it sustainable," says Ian. "You have to be able to take time off."
Scotland's small islands have been struggling to recruit and retain health professionals for years. The particular demands of working remotely, often without easy access to clinical support, make it a challenging career choice. There had always been a resident doctor on Shapinsay, until the last one left ten years ago. Despite the Health Board's best efforts, a permanent replacement could not be found, and for two years, locums plugged the gap.
The Hall family had been visiting friends in Orkney when the nurse-led service had been going for two years. Ian's wife Jenny saw an advert for an islands nurse practitioner, and he said he would give it a go. Recently returned from Africa, the Halls were working in their native Derbyshire. "But it just wasn't very exciting, says Ian. "We were looking for our next challenge."
When Ian got the post on Shapinsay in December 2012, the family bought a working croft on the northern shore, where they raise sheep and goats, hens, ducks, dogs and cats. There were three children, then – twins Jasmine and Alex, now aged 14, and Bethany, who is 12. Their "Orkney blessing", Thomas, arrived 10 months later. "The children loved it from the get-go," says Ian. "They have so much freedom to grow."
Shapinsay, three miles wide and five miles long, has a small harbour, an imposing Victorian castle, and a scattering of cottages and crofts across its fields. The sea glistens azure blue, and on a sunny day it is an idyll. "But in the depths of winter, it's quite another story," says Ian. "We have to be able to take care of our own here and be reasonably self-sufficient."
Shapinsay's health centre is positioned between the primary school and the community gym. There's a spacious reception area, a dispensing room, a GP surgery and the nurses' room, where Ian holds consultations, seeing drop-ins and scheduled appointments.
One of these is John Leslie, known to his friends as 'Jacko'. He is 66 and needs to lose weight because of Type 2 diabetes. "It's been building up for years with me paying no attention," he says. "But I have a very physical job, and I have to keep myself as fit as I can."
Out all day in his hand-made creel boat, the Mary Jean, Jacko hauls in around 300 kilos of velvet crabs a week, exporting his catch to Spain. "It's hard work, and I'm glad that I'm able to do it," he says. "Ian and myself are working to keep it that way."
On Shapinsay, people with chronic diseases such as diabetes, asthma and chronic obstructive pulmonary disease (COPD) are followed up regularly by Ian, and doctors visit from Kirkwall twice a week. "They are very supportive and I can call them at any time," says Ian. "If I'm faced with a problem outwith my scope of practice I will refer it on, but that's pretty rare, to be honest."
Being just a half-hour ferry ride from Kirkwall, Orkney's capital, Shapinsay is a commuter island and there are many young families who go to work and secondary school there. There are also frail older people, some of whom are housebound. Ian is happy to do home visits, to change dressings, provide catheter care and chat, but there is often a need for home help. "There just aren't enough carers on the island, and if an older person doesn't have family here, or they cannot cope, there is very little choice," he says.
Ian has helped to train people on the island to act as First Aiders and second responders, able to give him support if required. "If there's a cardiac arrest it takes three of you to deal with it," he says. "Now there are people I can call on at a moment's notice."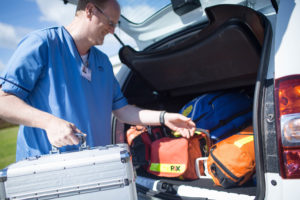 In the back of his car he carries his paramedic kit, and he is never more than five minutes away from it. Containing oxygen, gas and air, injectable drugs and a defribillator, this is life-saving stuff. "We're very well trained here," says Ian. "We do the Basics Scotland three-day intensive emergency care course every two years, twice the normal requirement. I use it a lot."
De-skilling, not seeing enough cases to maintain proficiency across the clinical spectrum, is a risk for remote and rural practitioners. To address that, Ian has started working with the other islands' nurses to establish a clinical supervision network that they can all use to maintain their knowledge and skills as expert generalists.
When Ian arrived in Orkney, he took part in meetings held by the Isles Network of Care (INOC), a group comprising mainly doctors who came together to discuss issues of mutual interest. Now the isles nurses participate, and there is also a NINOC, the nurses' version.
There are 10 inhabited Orkney islands which have either Nurse Practitioner or Community Nurse cover. "They are very isolated. When I first came here the nurses rarely got chance to meet," says Ian. "I introduced the idea of having dedicated time once a month when one clinician could contact another clinician to reflect on their practice. It allows two colleagues to work something through together."
The nurses use videoconferencing or telephones to link up. "We are developing something new here that could be very useful in other remote and rural settings," says Ian. "The nurses say it gives them support, and they welcome the chance to talk about case studies and clinical issues they are dealing with."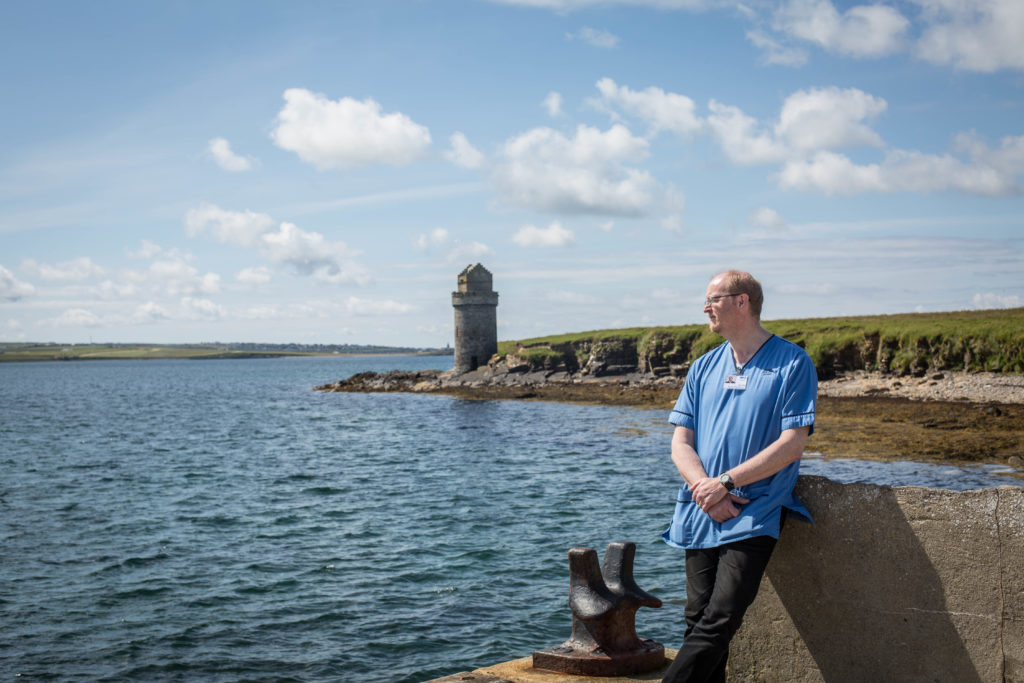 Looking to the future, Ian would like to see community nurses' network continue to develop, and their scope of practice widened to include referral rights: on Orkney, only a GP can order a scan, or request an appointment with a hospital consultant, which means an extra stage in the patient journey. "Confidence is at a good level now," says Ian. "The patients like the service we give them, and I reckon that having dealt with so much here already, I can deal with most things the island might throw at me."
By Pennie Taylor