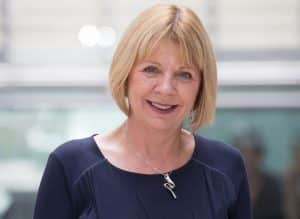 We have no contemporary Queen's Nurses within this role, however we have received this detailed look at the role from Catriona Kennedy, QNIS Professor of Community Nursing and Academic Strategic Lead for Research in the School of Nursing and Midwifery at Robert Gordon University Aberdeen.
What is your nursing background?
Most of my clinical experience was as a District Nurse and Practical work Teacher in the then Greater Glasgow and Argyll and Clyde Health Boards. At Glasgow College of Technology (now Glasgow Caledonian University) in the 1970s I completed the Diploma in Nursing (1977) which gave us Registration as a nurse, an academic award of Diploma and our District Nursing Certificate. It was an innovative programme for its time and suited me very well as I always wanted to work in the community. It seemed to me that most people want to stay at home and being able to help people do so as part of their family and community appealed. I worked for about 18 months in the Western Infirmary in Glasgow following completion of my course, before moving to the District. My first son was born in 1980 and I returned to work part time in Glasgow and helped set up the evening service. This was a big step forward at the time in improving care and support at home and helping people and families cope with long term illness and end of life care.
What led you to want to work as a researcher?
That is a good question and the honest answer is serendipity. I never set out to be a researcher but it just happened. I worked part time on the evening service until my two young sons were at school – child care was not easy to come by in those days! I then got itchy feet and started to increase my working hours and at this point got the chance to do the Practical Work Teachers Course at the then Bell College (now the University of the West of Scotland). I loved it and found the challenges of the course really stimulated me. Shortly thereafter, I applied to top up my academic diploma to an Honours degree at Glasgow Caledonian University. It was hard, as it meant attending University two evenings a week after a full day at work but I managed it. I was very fortunate to have Professor Jean McIntosh, the first QNIS Professor, as my dissertation supervisor. Jean is an outstanding academic and her professorial lecture really inspired me to explore the professional artistry and knowledge embedded in district nursing practice. All community nurses should read the monograph of her lecture because the messages she delivered in the early 1990s have resonance today.
How long have you worked in the sector?
I was working very happily as a DN and PWT in Argyll and Clyde Health Board when I saw the QNIS post of Advanced Practitioner/Lecturer in District Nursing advertised at Queen Margaret College (now QM University). Funded by QNIS for 5 years, this was one of three academic posts supported by the Institute at the time. There was the Professorial post at GCU, held by Jean McIntosh and an Education post at St Columba's Hospice in Edinburgh. I was fairly well through my Honours degree and my DN colleagues said to me 'you should apply for that post'. My first thoughts were no I don't think so however I then thought well maybe I should think about it as I really enjoyed education and the appeal of combining education and practice won me over. I was truly astonished to be offered the post as I thought there were bound to be much smarter people than me around. Fortunately, my family circumstances allowed us to decide to make that big move along the M8 and we moved east in 1991.
What have been some of the highlights of working as a researcher?
I consider myself very lucky and privileged to have had so many opportunities through research. Achieving my own PhD was a highlight as I had never seen myself as someone who would do a degree to this level. In the early days, seeing work in print was also a real highlight and some of my PhD work, which I published in the 90s, still seems to have resonance with DN students. It is still good to see papers published and especially when they include students and early career researchers. Researchers have a responsibility to disseminate their work and recognise that those who contribute to our work deserve to have their voices heard when they give so generously of their time and experiences.
Doing research has given me opportunities to travel to different countries to conferences and meet so many interesting people. I was lucky enough to win a Scholarship which let me go to Australia for 6 weeks which was a great experience. I visited the Peter MacCallum Centre for Cancer Care and spent time with the nurse specialists based there who treated patients at home.
My connections to QNIS, who supported my first post at QM and my affiliation now as the QNIS Professor nearer the end of my career, has been a highlight. QNIS and the excellent people connected to the Institute have helped me and provided role models which we all need. When I attended my interview all those years ago at QM and had to do a presentation, Dr Lisbeth Hockey was there. Lisbeth, alongside Professor Jean McIntosh and Dr Phil Runciman, supervised my PhD and were inspirational to me. All had a long standing commitment to QNIS and community nursing research and each contributed in a unique but complementary manner to completion of my PhD. They made me work very hard but the synthesis of their knowledge and expertise helped me complete my study.
Of course the most important highlight of research has to be the hope that however small, your work has contributed to informing practice to improve the experiences of patients and families. My PhD was the start of my research journey and since then I have been involved in a lot of studies which include people, families, communities. Whilst the questions being asked and the methods vary, the overall aim is about being able to better understand people's experiences to inform and guide practice. I have also done a lot of work in evidence synthesis and systematic reviews because we have a lot of studies out there but unless we identify, appraise and synthesise the findings across studies to answer specific questions we may not carry out the most needed studies going forward.
What would you say to someone considering moving from practice to research?
There is no doubt that moving from practice to research is challenging. I developed my research work in conjunction with an education role so it evolved. Once I finished my honours degree and I became more settled in my role in education I thought if I am going to stay in this sector I should do a PhD. I started my PhD in 1996 and moving from practice to education fuelled my PhD focus. At the time, we were teaching a lot about nursing models – remember them? Complex and abstract I really felt a disconnect between what I had very recently been doing in practice in terms of the first assessment visit and what we were teaching students. My PhD, completed in 2000, was an exploration of 'The nature and use of knowledge by district nurses in decision making relating to first assessment visits'. Through research you can stay connected to practice – it is different but you can still contribute to improving the care and support of people and their families through generating evidence and in-depth understanding of people's experiences and perceptions.
Do you miss working with patients on a daily basis?
When I moved to education at first I really missed the patients and families. I also felt completely out of my depth with regards to regulations and processes and feeling confident enough to speak out at meetings where I didn't really know what was going on. I did wonder if I had made a mistake but could not go home and say so given I had uprooted my family! I missed working with patients and families and realised how much feedback they gave me on a day by day basis. I also missed the work patterns in practice as they are more structured than education where there are few short term strikes on the board. After about six months in post I was asked to write a reflection on that time period. This really helped me as I realised I did enjoy working with the students and educating the next generation of nurse was a really important role.
Would you be able to return to practice if you wanted to?
Anyone reading this will realise that most places I have been have now morphed into something else so I am now nearer the end of my career than the beginning. My area of practice is now research and I love working with MSc and PhD students. We have a small but strong research team here at RGU and we need to ensure a sustainable research workforce. I am very keen that we don't silo nursing research and we have two sociologists and a social worker in our team which adds great strength to our work and connections.  I came into nursing to work as a 'nurse' and had no intentions of travelling the route I have. Being a nurse has afforded me tremendous opportunities and contributing to patient and family care and support can be done in lots of different ways. I would encourage anyone who is interested in an education and research career to take as many opportunities to advance their education and practice knowledge and skills as they can. I think there are more opportunities now through education and practice developments. Nurses in the community are doing some extraordinary work. We are conducting an independent evaluation of the QNIS Nurse development programme and the breadth and scope of the work undertaken by the participants is amazing. Nurses in the community are making a difference to people and it is really important we capture the impact of nursing work through research.