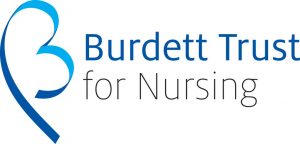 Are you a learning disability nurse and a change maker, making a real difference to health and wellbeing? Do you know someone who is? In 2020 there is a special invitation for community learning disability nursing pioneers to join a bespoke additional Queen's Nurse programme funded by the Burdett Trust for Nursing.  
Nominations are now being invited from health boards and other employers. The closing date for candidate applications has been extended to allow for all health boards to submit their nominations.
To read more about the Queen's Nurse title click here, and about the 2017 and 2018 Queen's Nurses here. 
This opportunity has been made possible by a grant from the Burdett Trust for Nursing. For 2020, QNIS will be running an additional programme especially for community learning disability nurses. The grant was awarded at the end of 2019 to celebrate 100 years of learning disability nursing with a commitment to developing leadership capacity for the future. There are eight places. The programme will start in June 2020 and will be longer than the usual nine months as the group will work together on a shared issue for development with a criminal justice focus and this will extend the usual programme. Candidates will receive their Queen's Nurse title with the other Queen's Nurse candidates in November 2021 at a special event to celebrate reaching over 100 new Queen's Nurses in Scotland.  
We are inviting applications from NHS Boards, third and independent sector employers. You must be nominated by your Executive Nurse Director (or equivalent). If you have had discussions about being nominated, you may find the following guidance helpful in considering whether this is an opportunity which would interest you: 
Guidance for learning disability nursing applicants 
Before you embark upon completing the application form please ensure that you have been selected for nomination by your employer. Each employer can only nominate one candidate. The application form requires a great deal of thought. Please allow a few weeks to complete it and leave time to ask others to read it and give you feedback. It is designed to be an enjoyable process as you reflect on your personal and professional journey as a community nurse, midwife or health visitor. 
Please find below the application form to be completed by the candidate, and the organisational support form to be completed by the sponsoring line manager and signed off at executive level. 
We recognise that this might feel overwhelming at first, so a number of previous candidates have agreed to share their applications to help and inspire you. They can be found below: 
Community mental health nursing example 
Respiratory care nursing example 
Substance misuse nursing example 
Whilst names have been removed, we have not been able to fully disguise the identities of those who wrote them. Please treat the information with sensitivity. 
If you'd like to know more about the programme and the difference it has made, those who are already Queen's Nurses have said they are happy to be contacted. You can find their email addresses here.