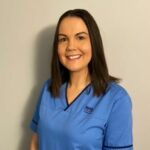 I have always known that I wanted to pursue a career in community nursing, even from as early as my nurse training. I was drawn to the meaningful and lasting relationships that community staff can build with patients in their own home environments.
After 17 years of nursing in secondary care, I pursued my dream and stepped out of my comfort zone to challenge myself professionally and academically to become a Specialist Community Public Health Nurse. I haven't looked back! My only regret is not doing it sooner.
Achieving an MSc in Early Years Practice (health visiting) at the University of Stirling was a personal highlight for me academically. Then, when I received an email explaining that I had been awarded the QNIS academic prize for 2020 I was genuinely overwhelmed. I feel very honoured to have been selected for this award. As news of my award spread, I received lots of lovely messages of congratulations which further recognised my hard work.
The award came at a time when I was being professionally challenged. As a relatively new Health Visitor, I had to adapt quickly to a new way of working and supporting children and families during a worldwide pandemic. This award has inspired me to continue with my personal and professional development so that I can continue to support children and families to the best of my ability.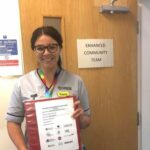 In the final year of my nursing degree, I had been assigned two community placements. One working Strathcarron hospice providing end of life care and one within the Enhance community team providing hospital care in the comfort of people's homes. I completed my QI project which I chose to reflected on learning and how I could
better my practice in a community setting. I would have never believed how much I enjoyed my time learning in a community environment and being truly patient-centred in my work until my experience in the community.
I am so overwhelmed by this award as I never in a million years thought my experiences and academic work would have been noticed! I am so glad I chose to do my project surrounding patient-centred care in the community.
In community nursing, there is satisfaction like no other being able to assist people with their needs in the comfort of their own homes/ home settings. It's very important to people especially in a pandemic that they avoid hospital admission and being able to provide a service and honour keeping people well within their own home is a privilege .
I am so thankful for this award and hope to continue my academic learning throughout my career as a nurse.