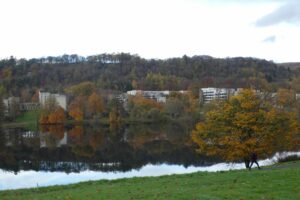 We were delighted to be joined by 70 Queen's Nurses for a two-day unconference at Stirling Court Hotel last weekend. Queen's Nurses travelled from as far afield as Orkney, the Highlands and the Borders to be a part of the gathering. The event allowed delegates the opportunity to slow down and reflect away from the usual work environments, to recharge and reconnect. Each Queen's Nurse met someone new and spent time strengthening existing networks in one-to-one conversations, cohort sessions, and small focus groups.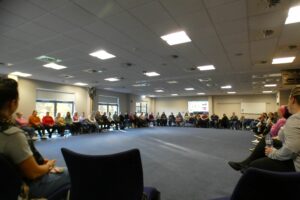 The event provided an opportunity for Queen's Nurses to create new networks of special interest; groups from various specialties came together in dedicated focus sessions to discuss how they can share practice, offer peer support and collaborate to tackle issues in their fields concerning the workforce, wider healthcare challenges, and Scotland's health and care inequalities. 
Delegates enjoyed guided wellbeing practices, including Capacitar, pal dan gum, and an early 'spring into morning' session, which was delivered by Queen's Nurse Lynda Mutter. 
We were delighted to be joined by Dr Margaret Hannah, Director of Health Programmes at the International Futures forum, who delivered a masterclass on Humanising Healthcare: small acts of transgression. Margaret invited the group to take part in a short stillness exercise and shared resources to help stimulate thinking and discussion around how community nurses and midwives can remain agile, open minded and think creatively to and contribute to a positive future for healthcare in Scotland. 
The event provided stimulated lots of discussion and ideas about how Queen's Nurses can unite to make a difference in Scotland. It is hoped a Queen's Nurse gathering can be repeated in future years as the network of Queen's Nurses continues to grow and strengthen.