COPE Scotland was delighted to be invited to speak to the January and September 2021 SPQ DN learners at Queen Margaret University on ''Co-production a nurses' perspective. Working with communities to find solutions to common areas of concern''
The enthusiasm the learners had for the subject shows a real desire for working with individuals and communities to understand the challenges they face and how the district nursing workforce, working with communities, can help find new ideas and solutions which can overcome or mitigate those challenges.
The Catalyst for Change programme offered by QNIS was shared as an opportunity for learners to be aware of, as a possible source of funding to take forward ideas they have in their community. For more details of this fund and when applications will again be invited, as well as information on previously funded projects, please visit the Catalysts for Change.
Part of the session delivered by COPE Scotland explored using the Jigsaw toolkit as a resource to help develop 'jigsaw lids' which can help support the conversations which can lead to increased understanding between different stakeholders. This increased understanding can help identify areas of commonality which can lead to actions that bring about real change. For more information on the Jigsaw toolkit please email Hilda Campbell, CEO COPE Scotland.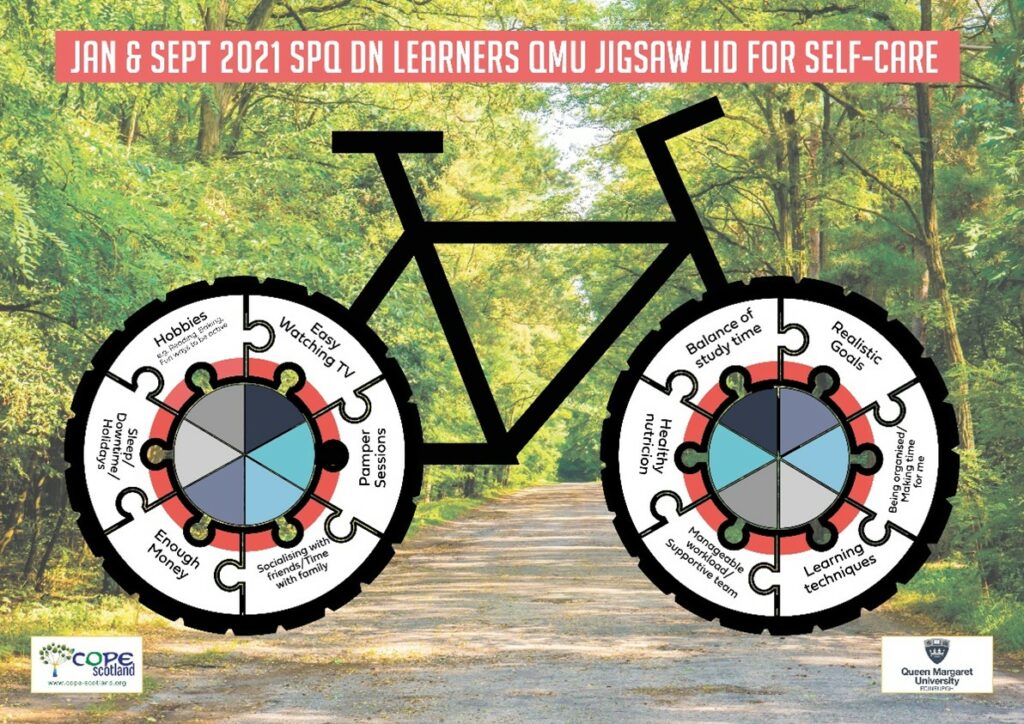 To offer learners an opportunity to practice using the toolkit and to support the ongoing work COPE Scotland is doing with QNIS around nurses' wellbeing, we set out to co-produce a 'Jigsaw lid' of the pieces the learners identified as supporting self-care. Usually, the 'Jigsaw lids' are two round shapes each with 6 segments, the group decided this was like a bike, so put handlebars on it. In the final design, the 'lid' was adapted to reflect this idea.  Core to co-production involves coming up with new ideas together. The group also felt the circles made more sense as bicycle wheels to show the interconnectedness of the internal and external factors which impact wellbeing and how each drives the other.
I think this is fantastic.  I love how the bike represents how the 2 wheels must work together to fully enable self-care.  1. Managing the course and our development in a positive way minimising unnecessary stressful factors, while 2. maintaining our 'personhood' and taking time to recharge those batteries.  Thank you for bringing our views to life in something I can refer back to and keep myself grounded.
We are delighted to share the final version of the 'Jigsaw lid', which has been named 'The Bicycle Poster' by those who took part.
It incorporates so many things that I feel we touched on in the session that we don't do and what we should do more of. I think this visual board reminds us that we are human. Self-care is so important to maintain a healthful culture, sound health and wellbeing. This encourages me to be more mindful in my leadership and the transformational leader I would like to be, ensuring self-care is recognised throughout my team. Thank you so much.
COPE Scotland are very grateful to the January and September 2021 SPG DN learners at Queen Margaret University for their inspiration and contribution, and very humbled by their kind feedback.  Inspired by the group its COPE Scotland's intention to add another element to the Jigsaw toolkit around a 'Bicycle poster' template for other nurses to use to develop their jigsaw lids for self-care and wellbeing.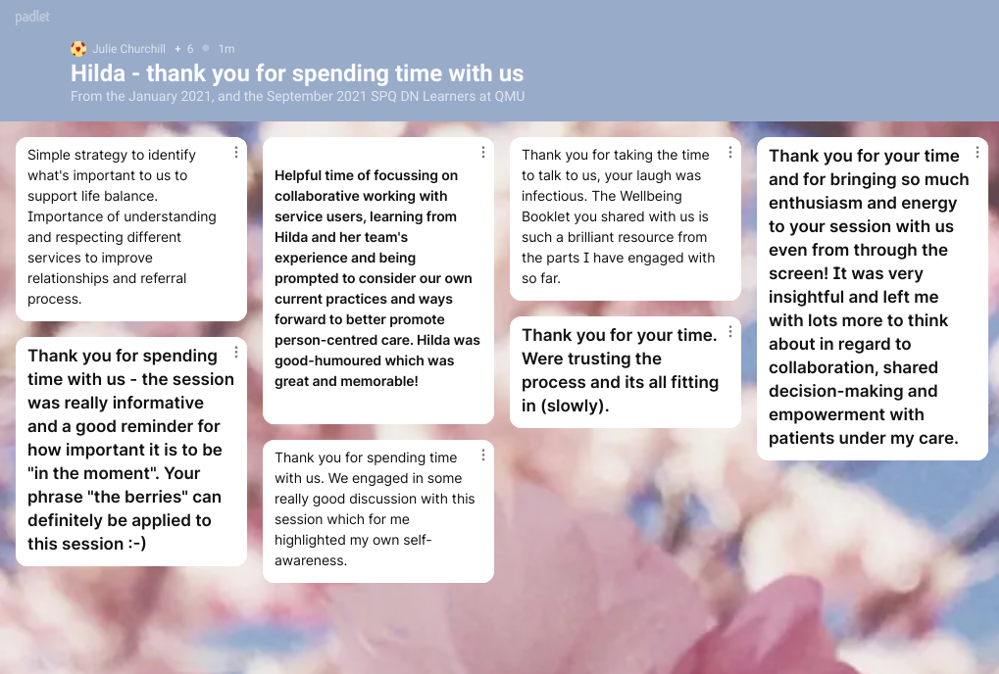 With the new COVID-19 variant in addition to all the other demands already being made on the nursing workforce. It matters more than ever that self-care becomes a part of the working day and is not viewed as self-indulgent, it is valued as an essential part of the team's wellbeing. The bicycle poster, which can be adapted for other teams and settings can act as a reminder, to make time for self-care.
This is a brilliant visual reminder to pay attention to the ''small things'' which are often forgotten about as we go about our busy days. They may be ''small things'' yet are powerful and necessary elements to help us maintain our own wellbeing. Thank you.

I think this has captured perfectly our joint thoughts and discussions and is an amazing visual reminder of ways we can look after ourselves.