On Friday 15th November, Trustee Jane Walker visited the University of Dundee to bestow a QNIS Postgraduate Academic Prize on Lynn Graham. Lynn has provided us with a blog, in which she discusses her love of community nursing.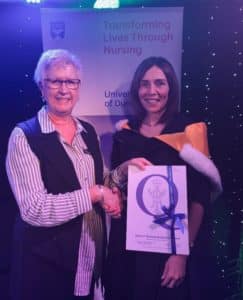 Winning the Queens Nursing Institute Scotland Academic Prize 2019 for University of Dundee has been an absolute honour. I was completely overwhelmed with emotion when I read the email confirming my award details. The award truly wraps up everything that I have worked towards achieving throughout my 3 years at University of Dundee, School of Nursing.  
I knew right from the start of my nursing degree that Community Nursing was where I wanted to be and with that came the constant challenge of being told that 'you will need ward experience to become a Community Nurse'. From that I knew I would have to apply myself to achieve the best grades and gain as much clinical community experience as possible for the chance of attaining a Community Nurse post on qualifying.  
Being a mature student, nursing is a second career choice to me having previously been a long serving Civil Servant. I chose nursing through my own personal journey and life experiences which made me realise the importance of being a good nurse, a caring and compassionate person. Having grown up in a small village community, I appreciate the value of the role of Community Nurse. I am passionate about community nursing, I love the therapeutic relationships built with patients in their own environment, it is an absolute privilege to care for someone in their own home. 
Throughout my three years at University I gained 25 weeks placement experience within the Community with placements in District Nursing, Health Visiting, Practice Nursing and Enhanced Community Support. I was very privileged to have been selected for a Practice Nurse pilot placement through NES Education.  As part of this placement I undertook venepuncture and chest auscultation training. During my placement I participated in venepuncture, wound management, chronic disease management clinics, health promotion and prevention, vaccinations, ECG's, blood pressure checks and new patient assessment, all of which helped me gain the confidence of working as an autonomous practitioner. 
During my final year sign off placement with Enhanced Community Support I gained lots of experience in patient assessment, liaising with the multi-disciplinary team and setting measures in place to prevent hospital admission. From this I gained lots of confidence in providing holistic, person centred patient care. During this placement I was very fortunate to gain experience working within NHS Tayside Community Care and Treatment Centres which was fantastic for gaining invaluable wound care experience.  
To my absolute delight a Band 5 Community Staff Nurse post was advertised just as I was looking to apply for jobs. I submitted my application, was shortlisted for an interview and a successful candidate for the post, dispelling all myths that 'newly qualified nurses cannot work in the community'. We absolutely can and I am! Another myth is that community nursing will 'deskill you'.  Having spent the last few weeks as a Band 5 in my new role of Community Staff Nurse I can absolutely assure you that it does not deskill!  Patients are living longer and with that comes multiple chronic conditions, along with complex care needs.  During my last few weeks I have administered PEG medications, insulin, injections, medications, taken bloods, provided palliative support, changed nephrostomy bags, delivered complex wound care, catheter care and so much more.   
Winning a QNIS postgraduate award just as I begin my community nursing career is a fantastic motivator for me to continue to succeed.  My goal is to achieve the best possible outcomes for my patients through living and dying well.   My plans for my future are to gain as much community experience as I can and progress my studies further.  There are so many opportunities in the community, it is absolutely the right career destination for me.  I would openly encourage any nursing student to consider community nursing as a first-choice career destination, you won't regret it!