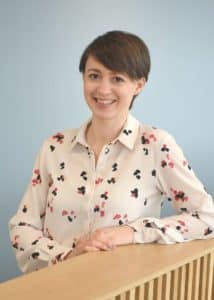 Dr Hannah Carver is a Lecturer in Substance Use at University of Stirling. She has a particular focus on problem substance use, inequalities and harm reduction among vulnerable populations.
Community-based nurses often care for people who are, or have been, homeless and facing a combination of truly difficult personal circumstances, financial insecurity and multiple health issues. Caring for and about them can be heart-warming, heart-breaking, and often a combination of both extremes. Still, it is always worthwhile and worth doing as well as possible.
Homelessness is a challenge for Scottish policy and practice, and a key priority for the Scottish Government. The Homelessness and Rough Sleeping Action Group (HARSAG) was set up to recommend actions and solutions needed to eradicate homelessness, including those relating to housing, poverty, social security and other mitigating factors. There is still much to be done to improve the lives of those experiencing homelessness, particularly those who experience problem drug and/or alcohol use, in terms of policy, practice and research.
It is well established that those experiencing homelessness often have intersecting health problems including poor mental and physical health and problem substance use. A recent report from Dr Andrew Waugh and colleagues (https://www.gov.scot/publications/homelessness-scotland-update-30-september-2018/pages/1/) highlighted the health service use of people who have ever experienced homelessness. Around 30% of those who were homeless experienced a mental health problem, 19% problem substance use and 6% experienced all three, with much higher rates for those experiencing repeat homelessness (11%). Interestingly, there were increased interactions with health services around the time of someone first becoming homeless, with people experiencing increased acute admissions for drug, alcohol and mental health problems and to A&E; outpatient appointments; mental health prescriptions; and admissions to mental health specialties.
We know from several UK and international studies that people experiencing homelessness are at increased risk of mental health problems and problem drug and/or alcohol use, but often engagement with treatment can be particularly challenging. While harm reduction approaches are recommended for those unlikely to achieve abstinence, there is little guidance on how harms from problem substance use can be reduced for people affected by homelessness. Internationally, innovative work is being implemented and evaluated, including Managed Alcohol Programmes, heroin-assisted treatment, supervised consumption rooms, Housing First and a range of supported accommodation programmes.
In Scotland, we have much to learn from international models and from different practitioners, but those working in different areas of these interconnected fields rarely come together to share good practice. To address this gap, a team of academics and practitioners from University of Stirling, University of Edinburgh, Heriot Watt University, Scottish Drugs Forum, NHS Lothian, and NHS Health Scotland hosted three knowledge exchange events on homelessness, health and harm reduction, to bring people together from a range of perspectives and backgrounds, including people with lived experience of homelessness and problem substance use and family members affected by these issues. Information about these events can be found here: https://www.scottishinsight.ac.uk/Programmes/OpenCall201718/Reducingharmandpromotingwellbeing/ProgrammeVideos/tabid/8044/Default.aspx
Following these events, 10 key recommendations were identified for policy, practice and research:
Services should be commissioned in a 'psychologically informed' way, ensuring that they are supportive and welcoming for staff and service users and, crucially, are not punitive.
Relationships between those accessing and those providing services are crucial.
Staff need to be well supported to enable them to provide psychologically informed, relationship-based care. They should be provided with opportunities for training, supervision, self-care and reflective practice. This includes being provided with opportunities to meet others in the sector and learn about new ways of working and approaches through training and events.
People with lived and living experience, and affected family members, need to be involved in the development of services (in all stages of service design and delivery) and in research.
People with lived and living experience should be supported to access paid employment opportunities. More opportunities need to be created across our sector to provide such jobs.
Research findings need to be disseminated effectively to ensure that practice is evidence-based and evidence-informed.
Funding needs to be provided over the longer-term, and commissioning cycles should reflect this.
Services should be supported to provide better partnership working, putting service users at the heart. Good information sharing practices should be part of this partnership working.
There should be robust pathways to safe housing and support. Accessing support services for problem substance use or other health and care needs should not be a barrier to accessing secure housing.
The media's use of derogatory and stigmatising language towards people who are experiencing homelessness and problem substance use should be challenged.
These recommendations can and should be implemented by those working with people experiencing homelessness and problem substance use, as well as policy makers, to ensure that we can improve the lives of homeless people, support them to access suitable housing, and meet their problem substance use and health needs. We encourage those working in the field, certainly including community-based nurses, to take forward these recommendations in their work.
For more information about the programme and to receive a copy of the briefing that details the events and the recommendations, please contact sacasr@stir.ac.uk.