Edinburgh Access HPBL Listening Session, Part 1
Inger McGowan QN and Michele Stranger Hunter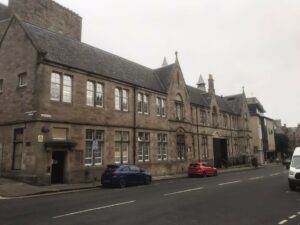 The views and advice of marginalised, traumatised women about their lived experience of reproductive health and pregnancy are too rarely solicited, heard or heeded. One mission of QNIS' Healthier Pregnancies, Better Lives programme is to redress that inequity.
The overall results and lessons from eight HPBL Listening Sessions in four locations are available here . Their emphasis was on the common themes that emerged from these candid conversations about preconception health, education and care with both patients/clients and the community nurses serving them.
However, each location and each Listening Session had distinctive qualities worth sharing. The first session in the new series was unusual, in that individuals were invited to share their experiences one-to-one, rather than doing so within a group. This decision was made to ensure the comfort and safety of especially vulnerable participants when discussing personal, traumatic events. In Part 1, Inger McGowan, Queen's Nurse – and a Practice Nurse in Homelessness and Inclusion Health at the Edinburgh Access Place – provides the context and her reflections on her practice. The Edinburgh Access Place is a fully integrated service between NHS Lothian and the City of Edinburgh Council. It offers access to dozens of services under one roof, including Primary Care, welfare & benefits advice, Women's only clinics, vaccination programmes, temporary and permanent accommodation, and social work support, to support the needs of Edinburgh's most vulnerable homeless population.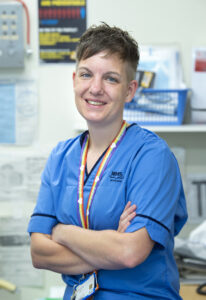 I have a particular interest in women's sexual and reproductive health. Along with one of our GPs, I lead a Women's Clinic every Thursday. We offer a safe, non-judgemental, women-only space where they can be seen by a mental health nurse, a practice nurse, midwife, GP, health visitor and third sector community support workers.  Our practice is for people who are registered as homeless. Part of our role as the practice nurse team is outreach, which includes visiting homeless accommodation and people being helped by community groups, such as Streetwork and the Salvation Army.
Many of our female patients have been pregnant and many of them have lost custody of their children. A high percentage of our patients suffer from poor mental health, PTSD/CPTSD, drug and alcohol addictions and/or involvement in the criminal justice system. All are experiencing poverty. The underlying cause is almost always deep-rooted trauma.
I see a lot of unplanned pregnancies. We support women in whichever choice they make. If it's a termination, then we refer and follow up. If they want to continue their pregnancy, then we provide modest preconception care and make referrals to all the agencies needed to keep the woman and her unborn baby as healthy and safe as possible. While many of the babies born to our patients end up in the care system, there have also been some success stories.
For me, it is important to make sure that women feel listened to. They should feel empowered to make choices around their own sexual health, whether their desire is to avoid, delay or prepare for pregnancy. Most of the women in my care deny wanting to become pregnant; particularly those still trying to deal with the trauma of having their children taken into care. That doesn't mean they no longer desire children. Sometimes, the longing to have a child is intensified by the loss of custody. This makes the issue of contraception complex. Many of these women do not consistently use any effective contraception.
This is the context in which I deal with reproductive health and the possibility of providing preconception (usually interconception) information, counselling and limited care. In Part 2, the voices of the women will be heard. Here, I am sharing my lived experience as a community nurse who encounters and assists marginalised women every day.
I am aware that the two Listening Session I conducted do not give a full reflection of the preconception health needs of most of my patients. I was able to conduct only two Listening Session interviews. This was due to the busy and often unpredictable nature of the workplace, pressure on staff during the pandemic and the chaotic, stressful lives our patients often lead.
The two women interviewed each managed to sit down with me for an hour. Neither of them had drug or alcohol addictions or PTSD/CPTSD or other mental health issues that would have made it difficult to participate in an extended group Listening Session. There were other women who initially wanted to participate but had to cancel due to severe illness, crisis and domestic abuse.
More frequently than you might imagine, women who are sexually active; have a drug or alcohol addiction; and are not using any form of contraception, believe they are unable to conceive.
 "I haven't used anything for years and never fell pregnant". They often lack a basic understanding of conception, and the relationship between periods and fertility. I regularly hear from patients that they have never had any form of sexual or reproductive health education.
For women to feel empowered and maintain a sense of control over their own bodies, sexual and reproductive health education is vital. Without it, women can lack the confidence to advocate for their own best interests or feel that discussion of their own experience is unwelcome. Likewise, unsatisfactory encounters with the health, social care and criminal justice systems can accentuate feelings of exclusion. Difficult childhood experiences, a lack of early role models and substantial periods of missed education, provide a poor foundation for seeking and maintaining healthy relationships. Stories of maltreatment, domestic abuse, and the selling of sex, are not uncommon amongst the women in my care – often cited as ways in which they are controlled.  Such trauma is deeply rooted and has had a lasting adverse impact on their attitudes, behaviours and decision-making.
Moving toward a better life and better health begins with asking the right questions in a sensitive, non-judgemental, person-centred way. Done well, that gives people permission, encouragement and support to talk about the difficult times in their lives – and how those have shaped their journey. Some healthcare professionals might find such questions difficult to ask. However, when asked with empathy and without shame or stigma, these questions are more readily accepted and answered. Candid, compassionate conversations are essential for the empowerment of women and the control they have (or can regain) over their bodies.
The effects of smoking, drug and alcohol use during pregnancy often seem unclear for my patients. There is an understanding that substance use is not good for the unborn baby, but the specific risks and potential consequences are not understood. For example, few have heard of FASD at all – and don't know smoking can harm the pregnancy and the foetus.
Unfortunately, we often see women who are unable, for various reasons, to stop harmful behaviours like taking drugs, smoking or drinking alcohol during pregnancy. We always discuss the risks of substance use for them, and their babies. The words we use, our tone of voice and our body language all have an impact on how we are heard and responded to by the women we want to help. The goal is to avoid stigma, re-traumatisation and blame, while offering support and education.
Conception, pregnancy and childbirth are all a part of women's health. Difficult life circumstances and unhealthy coping mechanisms will not remove the desire to have children. In spite of previous experience, there is often a desperate hope that, this time, she will be able to keep the baby.
The women who come to Edinburgh's Access Place did not choose homelessness, addiction, a chaotic life or being victims of domestic violence. And our societal safety net is non-existent for most who find themselves in these situations. Make no mistake, this is a largely a failure of the systems, not the individuals.