Postgraduate QNIS Prizewinner from the University of Edinburgh, Temitayo Odewusi, pictured below (centre) with Aisha Holloway from University of Edinburgh (left) and Clare Cable, Chief Executive and Nurse Director of QNIS (right) has written this blog discussing her area of research – adolescent sexual and reproductive health in Nigeria and beyond.
When I received the email about the QNIS award, I was very surprised because I least expected to get nominated for this prestigious award. At the same time, I felt truly honoured to have been considered and nominated. Receiving the QNIS award has positively impacted me, my research study and the passion for adolescent sexual and reproductive health in Nigeria and beyond.
Adolescent growth and development is often associated with lots of health challenges and adjustments. Growing up with these life experiences in low and middle income countries (LMICs) further constitute enormous burden for young people, which little or no attention has been paid. One of the LMICs is Nigeria, where adolescents are experiencing this period of transition in their lives with limited guidance on how to navigate this stage successfully, especially regarding their sexual and reproductive health (SRH).
Nigeria has one of the highest and alarming maternal mortality rates in the world of over 800 deaths per 100, 000 live births. Specifically 821/ 100,000 (World Bank Estimates, 2018); and 814/ 100. 000 (World Health Organisation – WHO, 2018). The variations in the reports might be due to the fact that most of these deaths are not often reported. Also, abortion is illegal in Nigeria.
 Map of Nigeria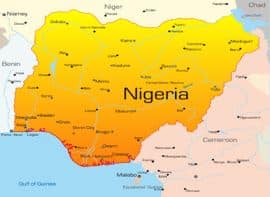 Discussions about sex and contraceptives use are not by any means acceptable, which may be attributed to cultural, religious, and other factors, making it very difficult for parents to discuss these issues with their children. Unfortunately, when young people get to this stage of life, many of them "try sex" out of curiosity, and/or majorly influenced by their friends (peer pressure), as well as social media. They "try sex" with or without any form of sex education. Often times, the adolescent girls become pregnant, and this is the time when they now start to seek for and get various information about adolescent SRH. The easily acceptable option for many of them is to seek for abortion, which is often illegal and therefore criminal. And they eventually end up with complications like haemorrhage, sepsis, incomplete abortion, uterine puncture, secondary infertility and ultimately death.
All these, and my personal interactions stir up within me a passion to positively influence the lives of this vulnerable population through my current PhD research on Adolescent SRH. The implications of the study include: to assist young people make well-informed decisions about their SRH, improve their quality of lives including their SRH, and this will ultimately reduce the enormously high maternal mortality in Nigeria.
Temitayo Odewusi
Postgraduate QNIS Prizewinner
University of Edinburgh