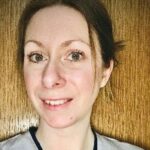 When I found out I had won the QNIS undergraduate award for community nursing I was absolutely delighted. Being in the first year of my nursing programme felt like a prize in itself as I have wanted to be able to study nursing for a long time. To then finish the year winning such a prestigious award, I felt like I had won the lottery!
I have worked as a community care worker for a number of years, as well as spending some time as a youth worker in my local community. During my career, I have met hundreds of families from various walks of lives who each have their own interesting story to tell. I am always inspired by these stories and feel a real connection with each person that I work with knowing that there is so much more to their particular ailment or concern.
I was drawn to nursing as I felt like it would enable me to develop the skills I have as well as give me the opportunity to really make a difference to the people at the heart of their lives. I really believe that the work done in the community can have a huge impact on wider services and can really make a difference to the health and wellbeing of all generations. Community nursing allows me the chance to work with people where they are, and it is an absolute privilege to be allowed so close to a person's real life.
This award has given me so much more confidence in myself and has opened my eyes to the work that The Queens Nursing Institute do. It has made me feel very proud of, and even more passionate about community nursing and I am excited to see what the future brings for me as a nurse in the community. I hope that I will continue to learn about nursing through the community lens, informing my person-centred practice enabling me to really apply a holistic nursing approach to everyone I care for wherever that may be.