Suzanne Turner
MoD Civilian Nurse
Defence Primary Healthcare Services, Fort George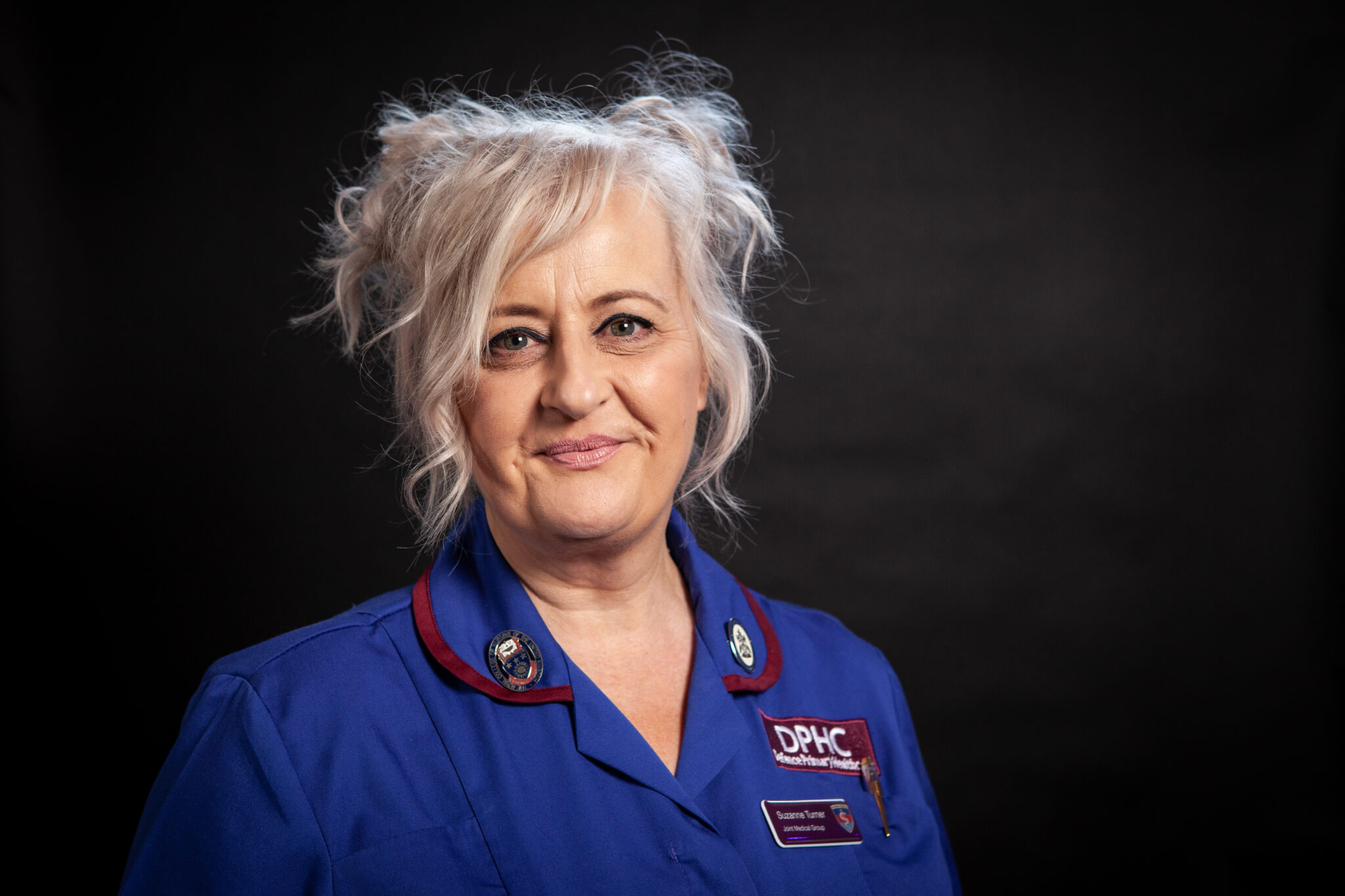 Suzanne had a longstanding personal and professional connection to the military before she got into nursing. 
"My husband has been a serving soldier for 33 years and we met whilst I was working as a civil servant for the military. I took redundancy to do my nurse training, but it was only after starting my new career that I realised how much I missed working with the military." 
"The unit I work in is similar to a GP practice, except that we also provide occupational health as well as prepare the military for deployments. Monday to Friday we operate as an 8am to 5pm clinic but when the soldiers are preparing to go overseas, we handle mass vaccinations and audiometry tests.  
"Within the military there is a hierarchy of ranks. However, for me, I see the person first and foremost and deliver the best level of care regardless of their rank." 
"When people join the Battalion, they have already completed basic training and are then posted to various units, one of them being Fort George. The historic buildings and isolated location can be problematic for some service personnel, and it can take time to adjust."  
"There used to be a stigma around mental health, especially in an environment where the perception might be that seeking treatment makes you less strong, but I can already see the service as a whole moving away from that." 
Suzanne wanted to be a Queen's Nurse since she heard about the title during her last placement whilst in England back in 2014. 
"When I first joined defence and moved to Fort George, I let go of my dream of being a Queen's Nurse as I hadn't heard about the programme in Scotland. I was involved in overhauling the medical centre and introducing good governance to the site and our work came to the attention of others. Following an award for Outstanding Primary Healthcare I was invited to visit Lichfield for an awards night. I was introduced to Colonel Sharon Findlay who was then in the role of Defence Nurse Advisor. She asked me if I had heard of the Queen's Nurse programme. I had but hadn't thought about it in a few years."  
"The programme has made me more self-reflective, especially the coaching sessions." 
"It's such a valuable programme because it helps you to embrace the uniqueness of your own role whilst creating bonds with other nurses you otherwise wouldn't ordinarily connect with." 
Finding these connections has encouraged Suzanne to reach out to other practitioners to assist with her project on sleep wellbeing. 
"I've been able to connect with Professor Michael Polkey at Royal Brompton Hospital and a respiratory nurse in Inverness because we all have an interest in breathing and sleep." 
"Sleep is inextricably linked to wellbeing, mental health and physical ill health. As clinicians we need to help people understand their general health, that should include the quality of sleep they're getting. The men I see all have smart phones and share multi-occupancy sleeping areas. Sleep is critical to their wellbeing and their ability to work safely under pressure."