The University of Glasgow has been offering undergraduate nursing degrees for over 40 years. We strive to offer our students a well-rounded, fulfilling, and enjoyable programme that will prepare them for life as a Registered Nurse (Adult), working in a variety of care settings. We are delighted to be able to recognise one of our 2nd-year students with the QNIS academic prize for promoting excellence in community nursing. We feel it is important to promote community nursing as a career option to our students and this award, which is usually presented at an annual event we hold with all of our undergraduate students, is an ideal way to do this.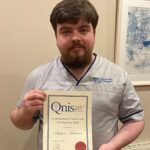 Being awarded the prize was sur-prize-ing as I was just being a student nurse i.e. doing homework. I was awarded the prize in recognition of a global health poster focussing on protecting the health of nurses. Specifically, the hydration and nutrition of nurses. So often nurses are serving the community but forget that they are part of the community as well. Nurses deserve care too! I'm drawn towards community nursing as it was the older, pre-hospital method of caring for people, as well as the model to which we may be returning to. Community nursing views people in a context and environment closer to their own making or choosing, thus is less likely to fall into dehumanising traps of seeing people as 'just patients' or numbers and statistics. The work I have done is applicable to both acute and community nursing, however, given that community nursing has the advantage of seeing people more humanely, surely it would be advantageous to make us see nurses more humanely too!
Being awarded the prize gave me something more than what can be contained in an envelope – it gave me confidence and reassurance. Confidence that I am doing well enough in my training and reassurance that nursing is the path best suited to me. The QNIS prize reminds me to continue to try my best. It may not be the best in my class, but it's still wholesome and worthwhile. Finally, the prize reminds me to continue caring for nurses as well as patients because it is in everyone's best interests that nurses support each other while making a positive difference in people's lives.