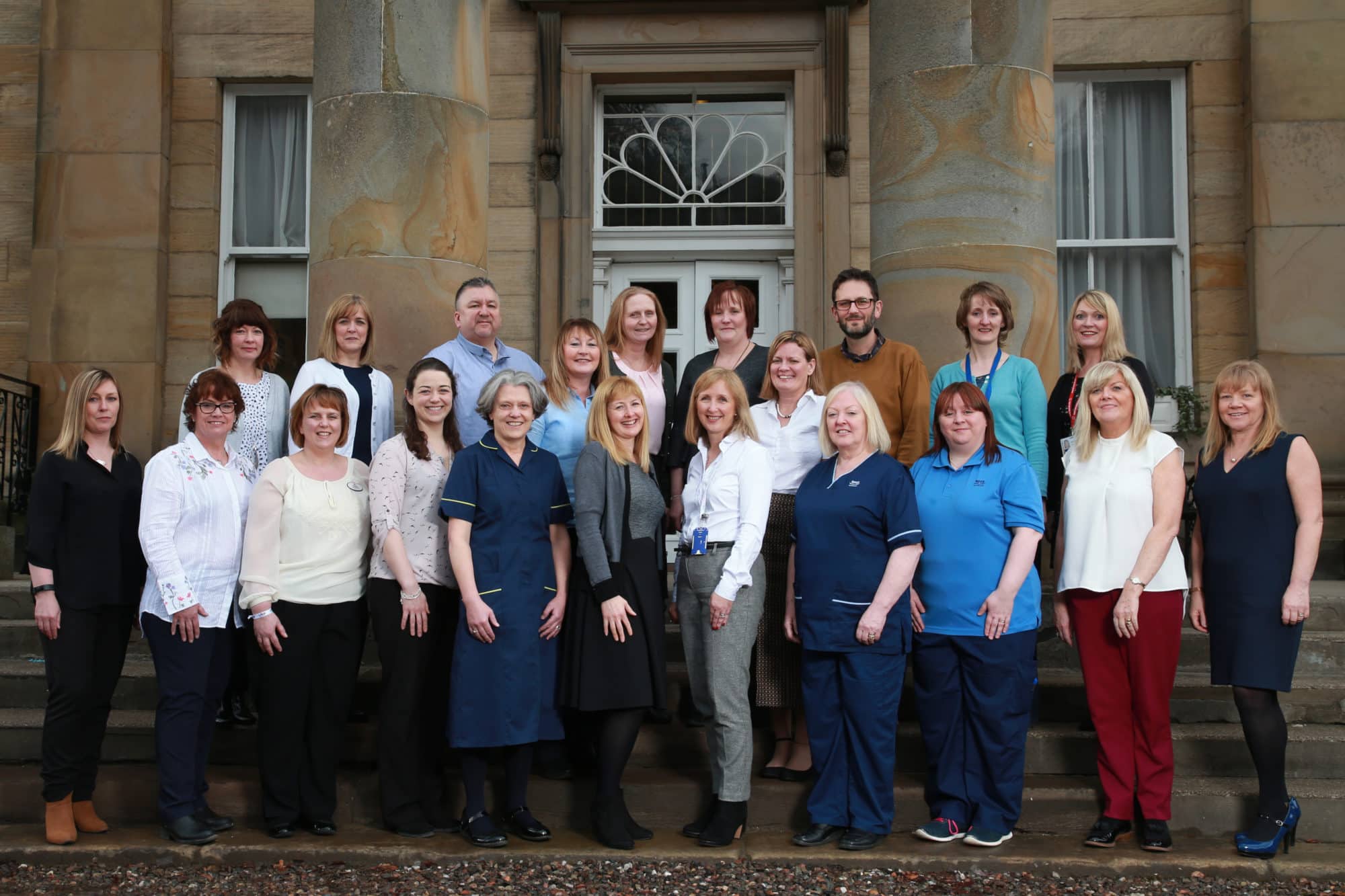 A group of 21 community nurses working across Scotland have been awarded the prestigious title of Queen's Nurse.
Among those to receive the honour is an offshore medic, a Diana Children's Nurse and a multiple sclerosis and motor neurone disease specialist.
Nurses providing care to people in the community who need support with a wide range of issues such as substance misuse, dementia care, dermatology, attention deficit hyperactivity disorder (ADHD) and infant feeding also feature.
Those working in general practice, community mental health, district nursing, child health, school nursing, care home nursing and health visiting complete the group.
They were selected earlier this year to take part in a nine-month development programme run by the Queen's Nursing Institute Scotland (QNIS) for their clinical expertise and compassionate care.
Queen's Nursing in Scotland dates back to 1889, when nurses completed specific training which allowed them to work as district nurses. They provided care and health education to people in their own homes and became well respected figures within their community.
Following the introduction of a national certificate for district nursing, QNIS ceased training, awarding the Queen's Nurse title for the final time in 1969.
However, the decision was made to reintroduce Queen's Nurses to Scotland in 2017, with 20 community nurses chosen to take part in a development programme which would see them become the first modern Queen's Nurses.
The process involves employers nominating a community-based nurse who will go forward for interview following a successful written application.
This year, 21 community nurses were selected to complete the nine-month programme which consists of a week-long residential workshop followed by two further workshops and coaching sessions in between.
The programme requires them to choose an issue for development which will have a significant impact on those they care for, so that the learning during the nine months is applied in practice.
Clare Cable, QNIS Chief Executive and Nurse Director, said: "The development programme was designed to ensure that values of Queen's Nurses of the past can be translated to meet the demands of leadership of nursing in the community in the future.
"The 2018 Queen's Nurses demonstrate the diversity of roles within community nursing in Scotland.
"They include specialist practitioners in remote communities, cutting the need for long journeys to be seen at a hospital; advanced nurse practitioners delivering care to people in their GP practice; nurses supporting people using their expertise in mental health; and others bringing care to some of society's most vulnerable and marginalised groups.
"They are all expert community nurses, seeking to make a real difference to the lives of the people they work with.
"The Queen's Nurse programme has resulted in a truly transformational journey for those involved and I know that they are all very proud to have been awarded the title."
Each nurse was presented with a certificate and badge by Scotland's Chief Nursing Officer Professor Fiona McQueen during the awards ceremony at The Principal Edinburgh on George Street hotel.
Prof McQueen said: "Scottish Nurses support the people of Scotland across all walks of life.
"This year's Queen's Nurses exemplify all that is good about nursing and nurses; supporting people at their time of greatest need and reaching out to people who often struggle to access services.
"Our Queen's Nurses ‎are ambassadors for nursing and truly inspirational."
Full list of nurses awarded below –
| | | |
| --- | --- | --- |
| Joanne Anderson | General Practice Nurse | NHS Ayrshire & Arran |
| Pauline Buchanan | Community Dermatology Nurse Practitioner | NHS Fife |
| Tracey Clusker | Team Manager (Substance Misuse) | NHS Lothian |
| Kirsteen Coady | Advanced Nurse Practitioner | NHS Grampian |
| Moira Flett | Multiple Sclerosis and Motor Neurone Disease Specialist | NHS Orkney |
| Lyndsey Forsyth | (ADHD) Nurse Specialist | NHS Fife |
| Bob Gardiner | Offshore Medic and Occupational Health and Safety Advisor | TAQA Bratani |
| Lorraine Haining | Specialist Nurse Practitioner (Dementia) | NHS Dumfries and Galloway |
| Gerry Hastie | Community Mental Health Nurse | NHS Fife |
| Brenda Kirk | Specialist Health Visitor | NHS Greater Glasgow and Clyde |
| Julie Lennon | Advanced Nurse Practitioner | NHS Highland |
| Coleen McLeod | Substance Misuse/Mental Health Liaison Nurse | NHS Western Isles |
| Brigid McMaster | Clinical Nurse Coordinator Out-of-hours district nursing | NHS Ayrshire and Arran |
| Caroline Porter | Diana Children's Nurse – West of Scotland | CHAS (Children's Hospices Across Scotland) |
| Rachel Pulman | Looked After Children's Nurse/Child Protection Advisor | NHS Borders |
| Keri Ratter | School Nurse | NHS Shetland |
| Cathanna Smith | Advanced Nurse Practitioner | NHS Highland |
| Elizabeth Smith | Community Infant Feeding Nurse | NHS Ayrshire and Arran |
| Margaret Ann Williamson | Health Visitor Team Lead | NHS Forth Valley |
| Madeline Wilson | Clinical Team Leader – District Nursing | NHS Greater Glasgow and Clyde |
| Lesley Wylie | Home Manager | Erskine Park Home |