In this first blog of six, Professor Moira Plant shares highlights from her report to be published this summer.
Since training as a nurse in Edinburgh, I have been fascinated by the complex relationships between women and alcohol. This interest led me to become an alcohol specialist nurse here decades ago. In fact, I ended up considering the connections between drinking and healthcare throughout my career. My late husband and I both eventually became Professors of Alcohol Studies.
Although retired from university teaching, I remain an active psychotherapist and serve as a Consultant/Advisor/Trustee for a variety of organisations in Scotland, the rest of the UK and internationally. What these roles have in common is a commitment to understanding and improving the connections between women, alcohol and pregnancy.  The Scottish Government estimates that around 172,000 children, young people and adults are affected by Fetal Alcohol Spectrum Disorders (FASD). Prenatal exposure to alcohol carries with it a serious risk (but not a certainty) of the unborn child developing this lifelong, life-limiting neurodevelopmental condition. Preventing FASD and responding well to those affected (when prevention did not occur) have been the cornerstones of my work.
For this reason, I was happy to accept the offer to become involved with the Healthier Pregnancies, Better Lives (HPBL) programme at the Queen's Nursing Institute Scotland (QNIS) in 2021. I played a role in the survey of Scotland's community nurses and midwives, including the four blogs sharing what was learned from the 219 community nurses and midwives who responded. (See the blogs here).
I have also written a detailed QNIS/HPBL report on women, alcohol, pregnancy and FASD, which will be published online this summer. These blogs will showcase some of the highlights from that report.
The first blog focuses on ways to ask about a patient's/client's relationship with alcoholic drinks and how to measure the amount they consume. Having a discussion with any of reproductive age is useful but doing this at a time when pregnancy is not yet in the woman's mind can feel more relaxed.  It is important to provide spaces where women and their health professionals are able to ask questions and talk openly in advance of any potential pregnancy.
In one way, measuring drinking is like any other measure, such as pulse or blood pressure. Once you have a baseline, you can compare later readings to those originally recorded, but with drinking, getting that initial information is trickier than using a blood pressure cuff.
Asking about drinking means truly understanding what 'a drink' is.  After all, nobody drinks 'alcohol'.  People drink wine, beer, gin & tonic, cocktails or whatever else they prefer. So, it makes sense to simply start by asking "What is your favourite alcoholic drink?".
In the UK, we measure alcoholic drinks in units. But what does one unit of alcohol look like?  Is it a pint of beer, a glass of wine, or one gin & tonic?  In fact, a pint of average strength beer contains 2 units; a large glass of wine contains 3 units; and a regular gin & tonic contains 1 unit. One pint of strong beer has the alcohol content equivalent of five single shots of whisky.
See HERE for NHS Grampian's guide to 'What is a Unit of Alcohol?'
Patterns of drinking are also important. This tends to be measured in three ways – known as QFT:
Quantity on each drinking occasion
Frequency of drinking
Timing of drinking
People talk about binge drinking as though it is a new pattern of drinking. It isn't. For instance, two large glasses of wine contain 6 units – the lowest official threshold of a 'binge'.
Internationally, a few standardised assessment tools are commonly used. Most are short; usually with no more than four or five questions. The most important question is about tolerance. Anyone who drinks alcohol will develop a tolerance, i.e., if we drink to feel the effects of alcohol, then as we become experienced drinkers, we need to drink more to feel those same effects.  My report describes, compares and contrasts each of these standardised ways of learning about an individual's alcohol consumption patterns.
How this relates to the work of community nurses and midwives in Scotland was explored here: https://www.qnis.org.uk/blog/speaking-about-drinking/
We learned from our FASD survey that most of the nurses and midwives who asked patients about alcohol preferred to do so in a more informal way; instead of using one of the standardised tools. They felt this avoided  the potential of negatively impacting the development of a good two-way relationship. That relationship is key to engaging in honest, non-judgemental conversations about the role alcohol plays in a person's life.
Before the social changes brought about by the COVID-19 pandemic, young women were having more parties,  attending more group activities and drinking often played a big part in these events.  A night out might start with everybody meeting up in someone's house.  Everyone would bring an alcoholic contribution – vodka, gin, cider or wine – which were all poured into a large, shared container. Some supermarkets even sold glass or plastic goldfish bowls for that purpose.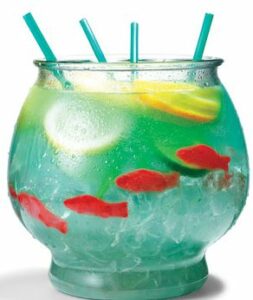 How would one of the participants in these activities accurately answer, "How much did you drink?" "Mmmmm, about four straw sucks every 10 minutes".  Try calculating that in units!
Sometimes, finding out crucial baseline information is nothing more than an educated guess. Less dramatic (but similar) is the example of someone having wine with a meal when the glass is regularly topped up. How many units would that total? And, are people even keeping track?
As a charge nurse in the alcohol treatment unit at the Royal Edinburgh Hospital many years ago, I asked a young medical student to take a drinking history from a newly admitted patient.  He came back and said he didn't think the man should be admitted, as he was only drinking three cans of beer a day. With a bit more questioning, we learned that the three cans he was drinking daily were actually party cans, each holding five pints of beer. The patient was drinking 30 units a day! Size does matter.
So, having read this blog, does asking "How much do you drink in a week?" seem as simple as it first sounds? Will it yield the accurate information needed to offer good advice and compassionate, person-centred care? The next blogs will provide insights and ways forward.
Read the second blog here