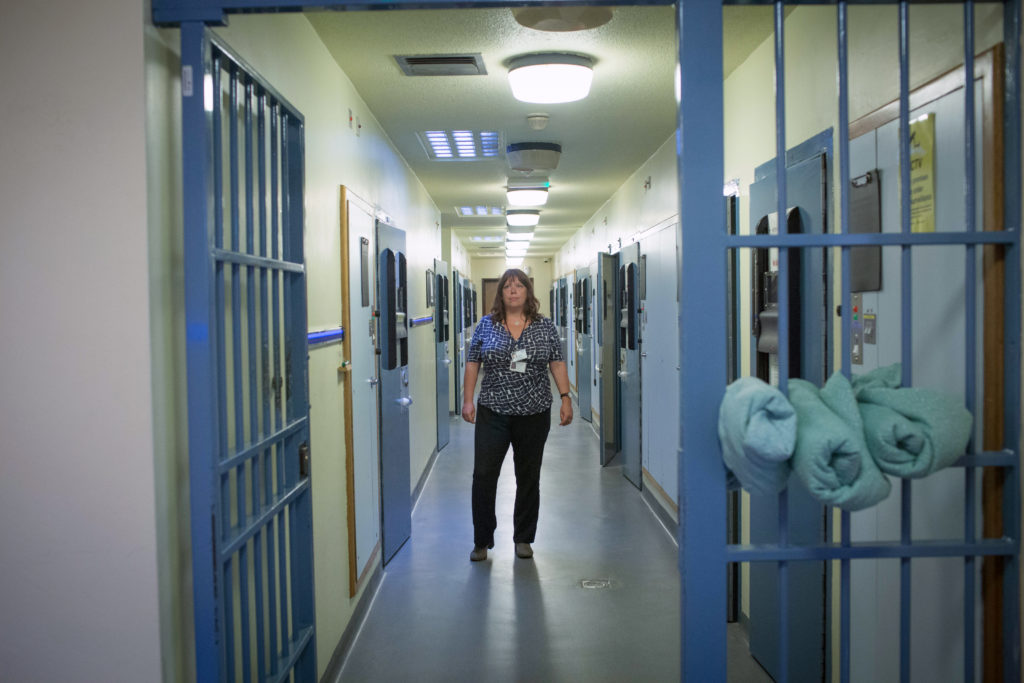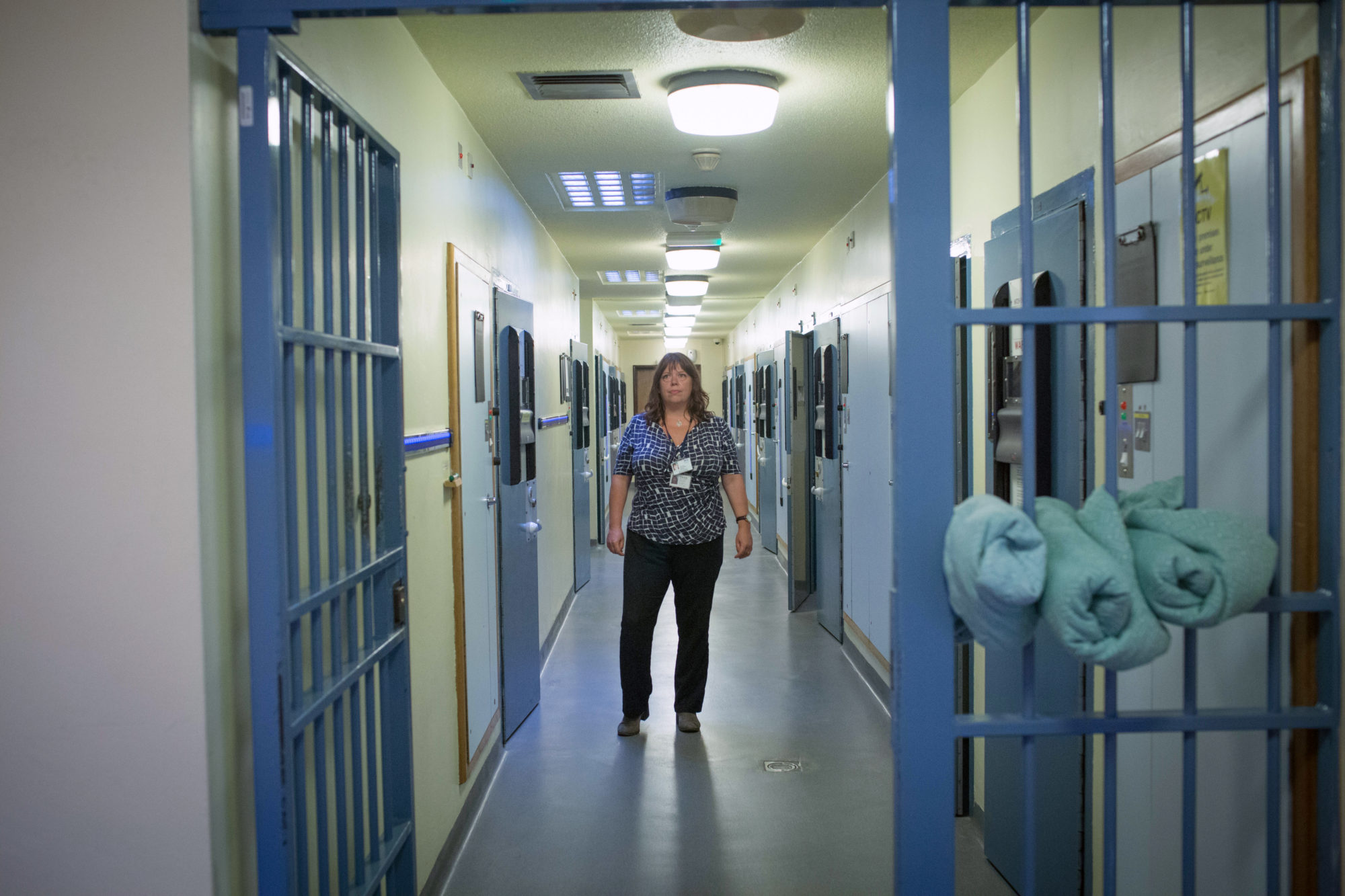 The custody suite below St Leonard's Police Station in Edinburgh can be an intimidating environment: windowless corridors are lined both sides with thick metal doors, well-worn whiteboards bearing the names of the people behind them. There is a busy charge bar, where people who have been arrested are clerked in, and an office where a bank of security screens is monitored closely.
On a busy day many prisoners will require healthcare attention. "The level of need we see here is high," says Inspector Colin Hannah, formerly Custody Manager for Edinburgh.
Recommendations following a fatal accident inquiry in 2009 led to the redesign of Scotland's Custody Healthcare service in 2011. Since that time, this innovative nurse-led model has gone from strength to strength, delivering bespoke custodial healthcare to those brought into police custody.
Presently covering the South East of Scotland, and employing 25 highly-qualified nurses, the custody healthcare service has become indispensable. "The healthcare team really are invaluable," says Inspector Hannah. "Custody Sergeants and staff work closely with them to collectively ensure that the care needs of those in police custody are met and people are kept safe."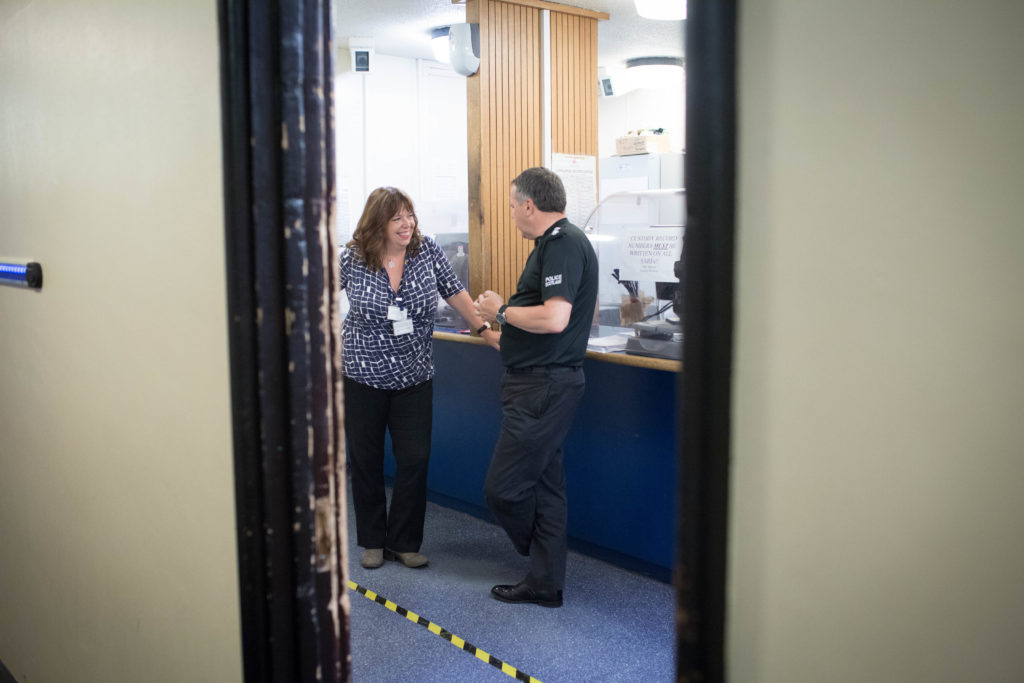 Senior Clinical Forensic Charge Nurse, Jessica Davidson, has been in charge since the start, and she is now one of three senior charge nurses on the team. "We check out patients for health problems – alcohol and drug issues, mental health problems, chronic illness, wounds and such like, and advise accordingly," she says. "We assess whether people are fit for interview, or for court or release, and undertake other forensic examinations such as testing blood alcohol levels. It's a busy old brief."
It is also trail-blazing. Jessica and her team of specialist nurses are developing new services to support people whose health needs have never been well met. "Most of the people who end up in places like this are disenfranchised, marginalised, and may not go near a GP," says Jessica. "We try to bring the help they need to them."
Noticing a spike in detentions over weekends, Jessica and her team have developed 'Sunday Choices', a one-to-one session focusing on issues such as domestic violence, alcohol and drug misuse and mental health problems. "If people have come in on the Friday, by the Sunday they have detoxed, eaten, washed and are on meds. They are also pretty bored and ready to talk to someone," she says. "It's a window of opportunity, and we use it to chat with them about their problems, and the things that can be done to help."
A recent development has been blood spot testing, on-the-spot screening for blood-borne viruses such as HIV and Hepatitis C. In the general population the incidence of Hep C is around 1%, but in the custody community it's looking more like 25%. "We can link people up with appropriate support before they leave custody and even make appointments for them," says Jessica. "We can refer directly to the blood borne viruses team, and our community networks are very good."
In the custody suite clinic alongside the cells, the nurses conduct examinations, apply dressings and, as non-medical prescribers, decide on treatments. "We have shown that we reduce inappropriate referrals to A&E and there are significantly fewer calls to the ambulance service from police stations, so we're deeply embedded in the organisational DNA now," says Jessica. "And importantly, we have a positive impact on the lives of the people we care for once they are out. 33% of our Sunday Choices clients are now in treatment programmes".
So unique is the service she manages that Jessica says she felt she did not belong to any nursing 'tribe', until she was nominated to become a Queen's Nurse, one of only 20 community nurses across Scotland to be awarded the title by the Queen's Nursing Institute Scotland (QNIS) in over 50 years. "It has reignited my passion for what I do, and reminded me that it's good to try something different," she says. "You can sometimes forget that when things are tough, and you are tired. But there is so much still to be done."
As their line manager, Jessica strives to support her team to cope with the particular pressures of an extremely stressful job, and talks of 'vicarious trauma'. "We are exposed to the saddest stories, over and over again, and we have to be able to deal with that," she says. "Maybe by working differently, we won't need so many duvet days."
Following her involvement with QNIS, Jessica is encouraging meditation sessions, and reflective discussion is routine. "In nursing we are taught to be resistant, not to be emotional," says custody healthcare Charge Nurse Vicky Walker. "But to do this job well you have to engage wholeheartedly with some tough stuff, be in the moment with traumatic life stories. It's obvious that you can't look after others if you don't look after yourself and Jess is good at supporting us to discuss how we are feeling, to be out in the open and solution-focused."
The custody nurses, who provide round-the-clock cover to nine custody suites across Lothian, Forth Valley, Fife and the Borders, find it hard to get together at the same time, and usually communicate by email.  "It's a very supportive team," says Charge Nurse Louise Kaney. "We know each other well, we trust each other, and can tell each other anything. We deliberately make time to talk."
Jessica's commitment to the development of her staff is driven by her ambition for "a highly-functioning, world-beating autonomous team that has an esprit de corps like a good regiment, and is nourished from doing a good job," she says. "My ideal would be for all the team to be in ownership a person-centred culture."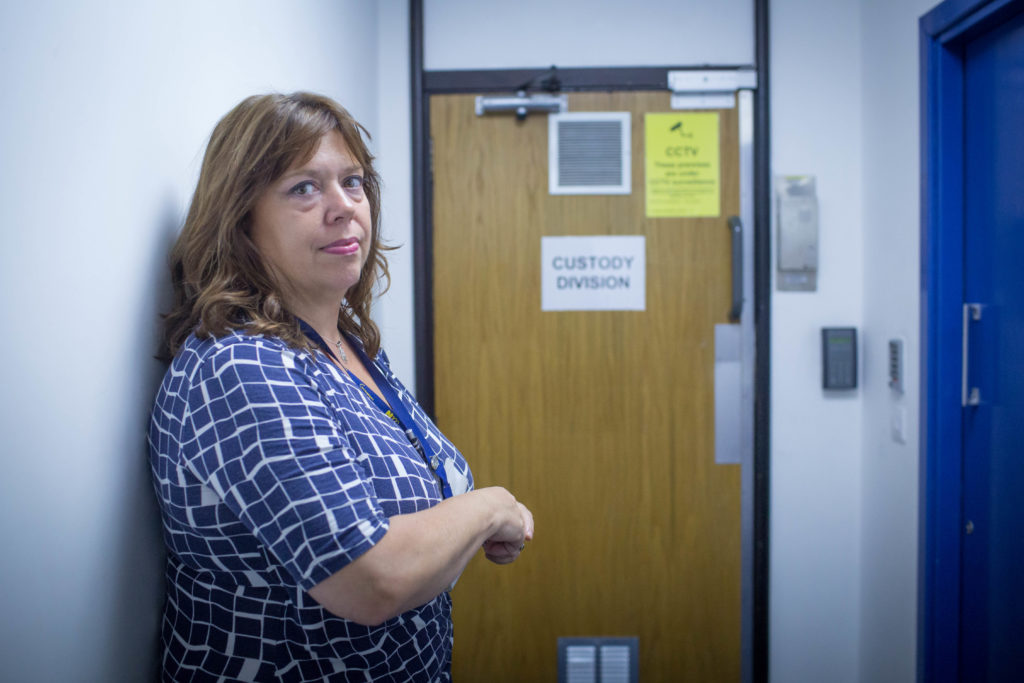 With transformation on their agenda, the members of the custody healthcare team certainly have their work cut out. The nurses are working on further developing their portfolio, targeting reduction of trauma and violence, alcohol counselling and provision of take-home naloxone for people at risk of heroin overdose. In addition, Jessica has her sights set on introducing person-centred, trauma-informed care delivered by registered nurses for victims of rape.
"There is only one dedicated sexual assault examination centre in Scotland, and that's in Glasgow," she says. "In England, and elsewhere, nurses are allowed to present forensic evidence in court, yet we cannot here. I am on a mission to challenge that."
As only doctors are permitted to lead forensic examination for sexual assault in Scotland, some people who have been raped face agonisingly long waits before evidence can be taken. "The complainer's physical self becomes key evidence as, forensically, every contact leaves a trace, and in some ways the person is a crime scene. This is very hard for patients to process in a traumatic situation," say Jessica.
"If nurses were allowed to do more, we would see to their physical and emotional needs as well as prophylaxis, and provide a one-stop service. I want there to be equity of healthcare provision for complainers of rape and sexual assault. We need self-referral directly to nurses, and physicians as well. The public expect to see nurses doing this work."
Jessica and three of her colleagues have undergone specialist training in the management of sexual offences and forensic evidence-gathering and the team has just had the job description approved for a new Advanced Nurse Practitioner role, specialising in forensic sexual examination; and she is on the national taskforce writing standards for care of people affected by rape and sexual assault. "You can bet that the words 'person-centred' and 'nursing' will feature large," she says.
Jessica is excited to be venturing into untrodden clinical areas again. "Being a Queen's Nurse has replenished my resources. I didn't realise that I was running on empty until I met the others and started on the development programme," she says. "Queen's has given me permission to flourish, and to encourage others to flourish, and I'm not about to stop now."